Running a business effectively requires you to manage contracts, documents, and other agreements with ease. Legal document automation software like Legito helps businesses of all sizes streamline their document management and save time. If you're considering using Legito, one important aspect to consider is its pricing and plans.
In this article, we'll break down everything you need to know about Legito pricing and plans, the major features, and other important information so you can make an informed decision for your business.
What is Legito?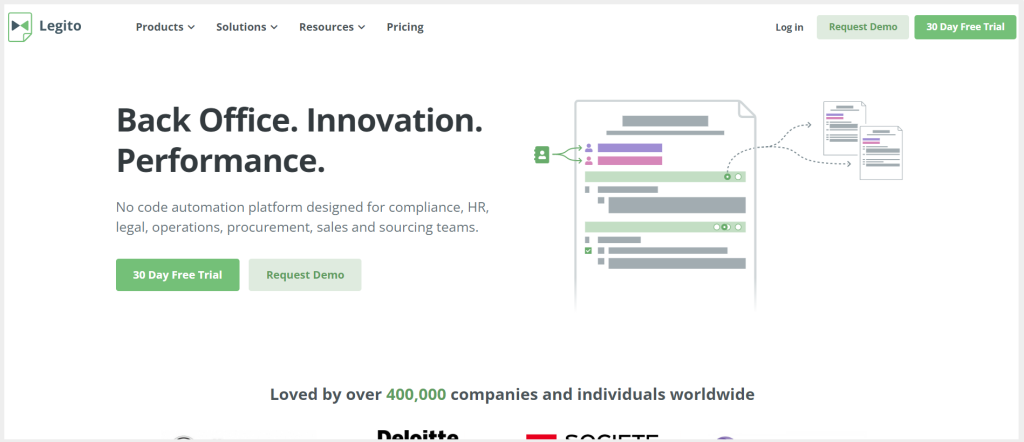 Legito is a comprehensive document management and automation software that has been designed with the purpose of automating the creation and management of contracts, documents, and other legal agreements. Legito allows businesses to create, store, and manage all their important documents in one place.
With Legito, you can streamline the document management process and reduce the time and effort required to create and manage legal documents. The software is equipped with a range of features that enable users to create custom templates, automate document assembly, and manage document workflows.
Overall, Legito is an excellent choice for businesses that need to manage a large number of legal documents. The software is customizable and equipped with a range of features that can help businesses streamline their document management process.
Legito's key features
Legito is a powerful document management tool that provides users with a range of features to make document creation and management a breeze. Whether you're a small business owner or a large corporation, Legito has everything you need to streamline your document workflow.
One of the standout features of Legito is its document automation capabilities. With Legito, users can automate the creation of documents, saving time and reducing errors. This feature, as mentioned previously, is particularly useful for businesses that need to generate documents on a regular basis, such as contracts, agreements, and legal forms.
In addition to document automation, Legito also offers users access to a range of model documents. These pre-built templates can be customized to suit your specific needs, making it easy to create professional, legally binding documents in a matter of minutes.
Another key feature of Legito is its document repository. This feature allows users to store all of their documents in one central location, making it easy to access and manage files. With Legito, you can organize your documents by client, project, or any other criteria that makes sense for you.
Collaborative editing is another feature that sets Legito apart from other document management tools. With Legito, multiple users can work on the same document simultaneously, making it easy to collaborate with team members, clients, or other stakeholders. This feature is particularly useful for you if you're negotiating documents or if you need to review and approve documents before they're finalized.
Legito also offers integrations with popular tools, such as Salesforce, Hubspot, and Dropbox. This means that you can easily import and export documents from your favorite tools, making it possible to manage more steps in the contract lifecycle.
Finally, Legito offers eSignature capabilities, allowing users to sign documents electronically. This feature is particularly useful for businesses that need to sign documents quickly and securely, without the need for printing and scanning.
Legito pricing
Legito has multiple public pricing plans and, as of this writing, it's only possible to subscribe for a minimum of three months or a year. With that being said, pricing is displayed in months so it can be difficult to decipher how much you're paying or why you're paying that much at first glance. There are three pricing plans displayed but only two of those plans have pricing attached to them. The third pricing plan is a custom plan.
The entry-level plan starts at $120/m/user and requires a minimum term of three months while the other plan is $96/m/user but requires a minimum of ten users and three months.
A detailed breakdown of each Legito plan
Each Legito plan comes with a different set of features and benefits, so let's go through them individually:
Basic plan
The Basic plan allows you to add multiple users to the plan and you can even start with a single user. It comes in at $120/m/user. The minimum price is $360. It provides access to all of Legito's key features, including contract automation and document storage up to 1GB. Additional features included in this plan are:
Email Support
Document Templates
Document customization
This plan is ideal for small businesses or even solo operators with a limited number of users but who want to manage contracts and other agreements professionally.
Small Business plan
The Small Business plan offers all of the Basic plan features but the major difference seems to be the number of users required to get started. It costs $96/m/user per month and you're required to start with ten users and a three-month term. The minimum price is $2880. The discount on users is designed to get people with greater needs on the plan.
Email and Phone Support
Share up to 100 documents externally
Document Templates
Custom Fields
Document Collaboration
There's not much difference between the plans in terms of features. With that being said, this plan is targeted at organizations with a larger user base.
Custom plan
As the name suggests, this plan is tailored to the needs of the organization that wants to use it and, as a result, the pricing is custom. There is a requirement of 20+ users before you can get started with this plan. It has the same features as the other plans but also adds a few that you can't get with the publicly priced options such as:
Unlimited external sharing
Installation on-premise
Professional services
A client success manager
This plan is a great option for small to medium-sized businesses that need more control over their documents and workflow.
Legito's available integrations
In addition to the core features offered by Legito, it also integrates with popular tools that businesses already use. Some of these integrations include:
Microsoft Office
Gmail
Dropbox
Google Drive
OneDrive
Box
Legito's integration ecosystem is small and it doesn't seem to be putting much emphasis here. This integration capability ensures your team can use Legito with their favorite productivity apps, saving time and increasing workflow efficiency.
Legito customer support overview
Lastly, customer support is an essential aspect when it comes to choosing the right software. Legito offers comprehensive customer support across all plans. Users can receive assistance through email, live chat, and phone support. Additionally, Legito provides extensive documentation, tutorials, and webinars for users to learn how to use the software.
In summary, Legito is a solid choice for businesses of all sizes looking for a powerful and user-friendly document automation software. Regardless of the plan you choose, Legito offers an exceptional set of features, integrations, and customer support. With its affordable pricing, Legito is a smart investment for any company that wants to optimize its document management processes and boost productivity.
DoxFlowy – the best Legito alternative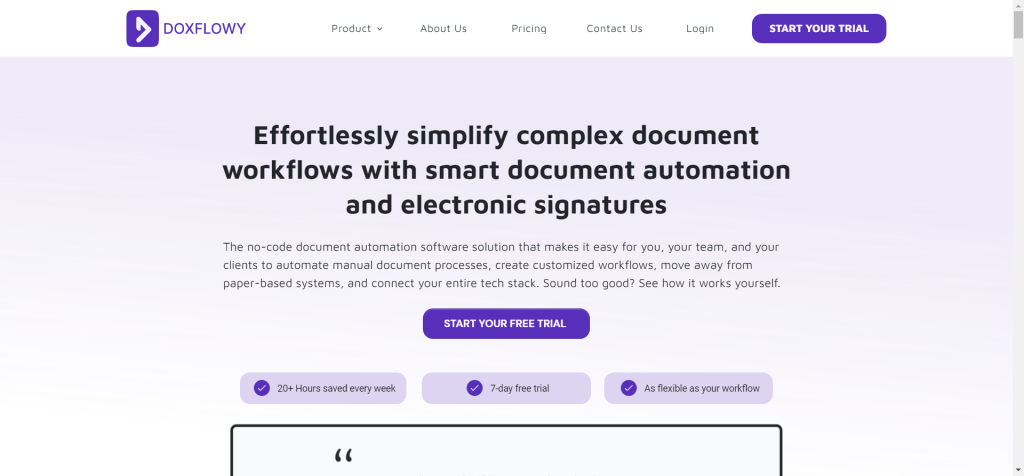 Legito is a document automation platform that checks many of the right boxes but it's not right for everyone. If you're looking for a Legito alternative that can go the distance, DoxFlowy is one to consider. It's a document automation platform with built-in electronic signature functionality that will help you optimize your current workflows and save up to 80% of document management and drafting time.
DoxFlowy comes with a strong and intuitive document editor that also harnesses the power of artificial intelligence. You can, on average, draft documents 3 – 4 times faster than if you were doing it from scratch. You're able to collaborate within individual documents or add multiple users to your account to further enhance your workflows.
Of course, you have control over what happens before, during, and after the document template has been created. You can choose the document settings, and even edit the look and feel of the intuitive questionnaire that's automatically generated from your document.
Analytics let you know what's happening within your documents and you also get a robust and compliant electronic signature audit trail that can be used to prove the legality of any signatures collected.
Organize your important documents in folders that can be arranged according to your specific needs and find the right content with robust AI-powered search capabilities.
Key features of DoxFlowy
Conditional logic – Create powerful if/then logic for every document and even for the questionnaires. When the conditions are met, the document template will adjust accordingly and produce a unique document that fits the situation. This further saves time and cuts down the amount of time you need to implement document workflows.
Robust document settings – You can control almost every aspect of the document from the output file formats to what someone sees when the document is created and everything in between.
Powerful document editor – The in-built document editor gives you multiple options for formatting and ensuring you can put your best foot forward. It's as simple as typing a Word document but it can be done from anywhere. Coupled with our AI engine, you'll be able to draft documents up to 4X faster. Of course, you can upload your own documents or build from scratch.
Team management – You can easily invite teammates to DoxFlowy and set their permissions to ensure that they only have access to the right files and workflows to protect sensitive data.
Electronic signatures – Take advantage of the built-in electronic signature solution to ensure documents are signed in a timely manner. Set expiration dates, reminders, and custom notification messages.
Strong search and document organization tools – Instead of having all your documents and agreements in one place which can be hard to navigate, organize them as you see fit. You can add them to folders based on the type of document, the date, or other factors that are important to you. There's also a strong search function that you can take advantage of to quickly unearth the documents you need.
DoxFlowy pricing
DoxFlowy has three pricing plans which are $99/m for the entry-level plan and $499/m for the largest plan. There's no limit to the number of users you can invite on each plan.
FAQs about Legito pricing and plans
IS Legito considered expensive among document automation solutions?
If you're just looking at the base plans then no. The thing that makes Legito pricier is that you're unable to purchase just one month of access to the software. You need to commit to at least three months which pushes the price up considerably. It also has a minimum number of users that can be on each plan.
Does it integrate with a lot of other software?
It does have a small pool of tools that it integrates with but it's mainly designed to be a standalone solution so its integration ecosystem isn't too robust. It does have an API you can take advantage of to build custom integrations.
Does Legito have a trial period?
It offers a thirty-day trial period.