Document automation software is, for many organizations, the best thing since sliced bread. It oftentimes allows you to do away with hours of manual work and automate entire workflows. For legal teams, legal document automation is even more powerful.
But, what's the best legal document automation software for you? That's a much more difficult question to answer.
In this guide, we'll look at what document automation software is, the best document automation software available right now, and what to look for in document automation software.
What is document automation software?
Document automation can be defined as the process of using technology solutions – usually software – to compile relevant data and then use that data to create documents without manual intervention.
The tools that are used to make this happen are referred to as document automation software. The components of document automation software can vary a bit but it usually has the same core components. A base document template, conditional logic, and a data source. The data source is where software varies.
Some software allows you to integrate with third-party tools. Other software allows you to create data collection forms. A few providers make it possible to go with both methods. None of the approaches are inherently bad. Instead, whichever one makes the most sense for your current workflow is ideal.
Document automation can be defined in a few lines but the process of choosing the right legal document automation software is far more daunting. Each solution brings something unique to the table based on the customers it's serving. The tools on this list encompass multiple types of software so you'll have a wide range of options to choose from.
Best Legal document automation software
DoxFlowy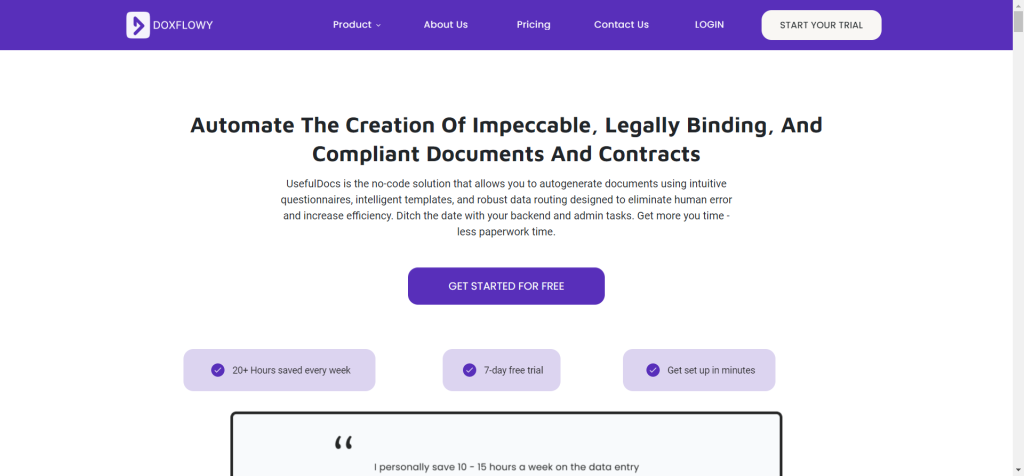 DoxFlowy is a contract and document automation platform that's used by small and medium businesses to save time and effort producing high-quality legal and business documents. Documents in this case range from contracts, to invoices and purchase orders and DoxFlowy touches almost every aspect of the contract lifecycle to make managing documents much easier.
DoxFlowy comes with a robust document editor that allows you to build documents from scratch, edit a template that you've created previously or that is provided, or you can also upload your documents. When you're done, you'll have a dynamic template complete with conditional logic to create unique documents based on the data inputs.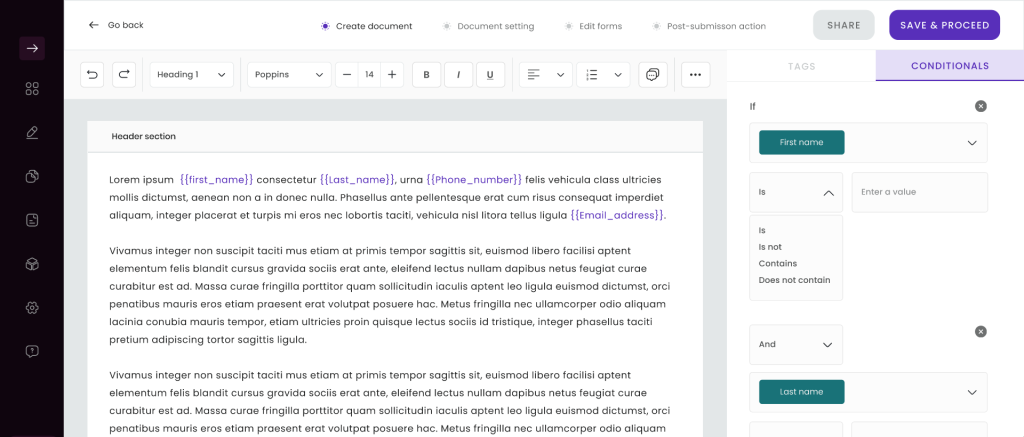 After a dynamic template has been created, a questionnaire will be produced automatically. It can be edited to meet your needs. Your brand colors, tone, and even your logo can be added to make it your own.
You also have granular control over the document settings which includes things like numbering, the download file output format, the size of the final document, whether your end user can access the final document, and more.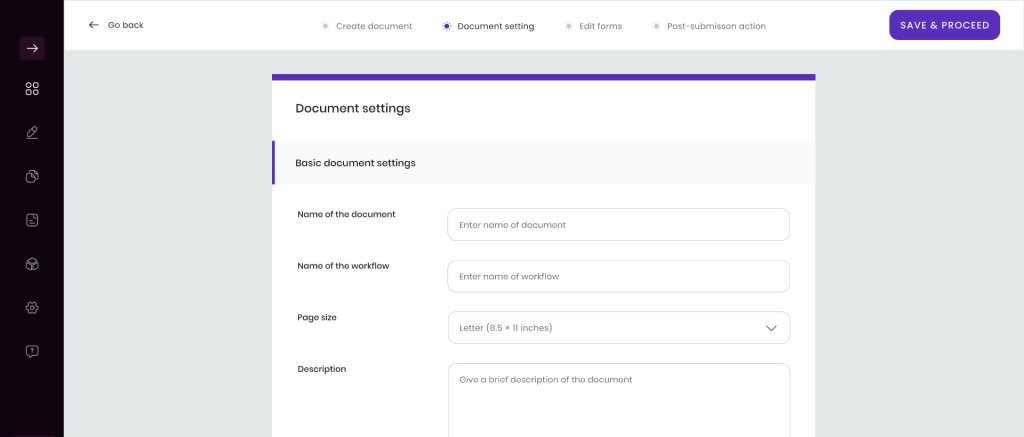 When using DoxFlowy, you can access multiple integrations and actions after the document has been generated to further automate and streamline your workflow. These include importing the document into the file storage tool of your choice, sending it for signing within DoxFlowy, notifying relevant people, and more much.
Of course, you won't need to send your documents anywhere in most cases because the platform also comes with the core document management and organization features you'll need. Organize files into folders that make sense for you such as by date, subject, employees, clients, or whatever else you choose.
Finally, reports show you the status of the document and let you know the best next steps to take. Additionally, you can take advantage of analytics that tells you the number of respondents to your data collection questionnaires, how they responded, and much more.
Only has basic contract lifecycle management features
Pricing
There are three core pricing plans that are divided based on the number of automation workflows that can be created and the features available.
Core $99/m
Team $199/m
Business – $499/m
Gavel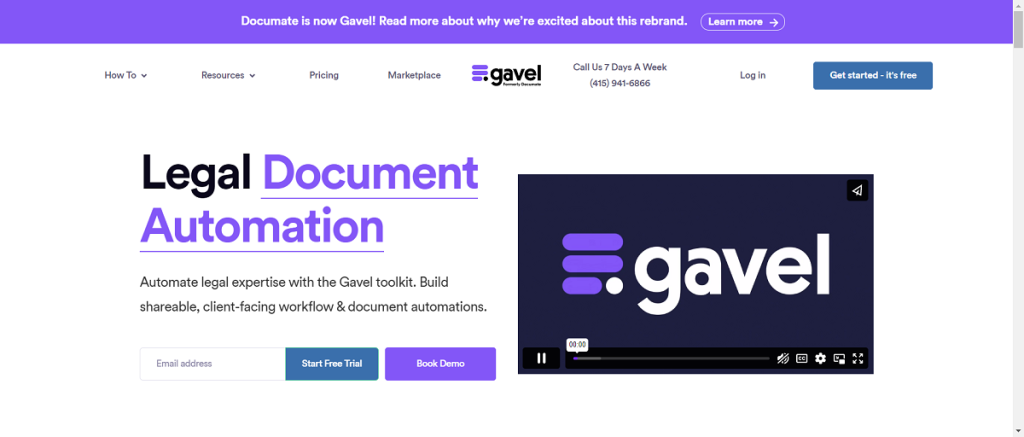 Gavel is a document automation platform that's designed for lawyers and other professionals to create what it refers to as legal applications to automate the creation and management of legal documents. The platform aims to simplify the contract creation process and reduce the need for legal professionals to have technical expertise.
With Gavel, you can create custom templates and automate the document creation process by using rules or conditional logic to populate the relevant fields in the document. Gavel also comes with a data manager that allows you to reuse information submitted from data collection forms or other sources. Additionally, it allows your clients and users to create accounts to save their progress when creating documents.
Despite its many benefits, there are some potential drawbacks to using Gavel:
Limited customization
Limited integrations
Pricing
Gavel has three pricing plans with the entry-level plan costing $99/m. It reduces to $83/m if you pay for a year upfront. The largest plan is $399/m and the plans are divided based on how many workflows you'd like to create.
Documint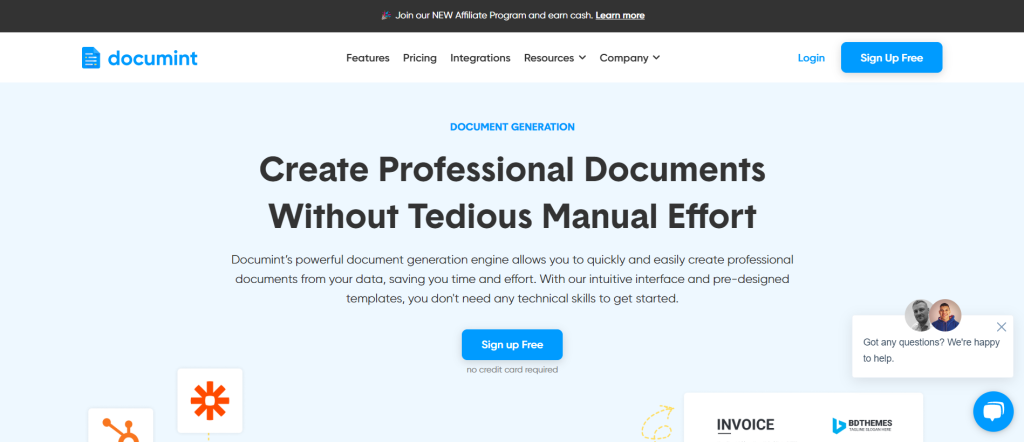 Documint is a document and contract automation platform that is used to create and manage a wide range of documents with a flexible and straightforward interface. The drag-and-drop editor allows you to create documents from scratch, upload documents in various file formats, and even take advantage of templates.
The emphasis of Documint is on creating templates that can transform to fit your needs. Data can be collected from native questionnaires or from connected data sources. Of course, there is conditional logic for the document inputs that makes it possible to adapt the document to the situation.
Here are three potential cons to using Documint.:
Limited customization options for automation rules
Limited collaboration features
Integration limitations
Pricing
Free (10 documents) – $.20 per additional document
Silver (200 documents) – $30/m $.015 for additional document
Gold (800 documents) – $80/m $.10 for additional document
Platinum (3,000 documents) – $150/m $0.05/additional document
Revv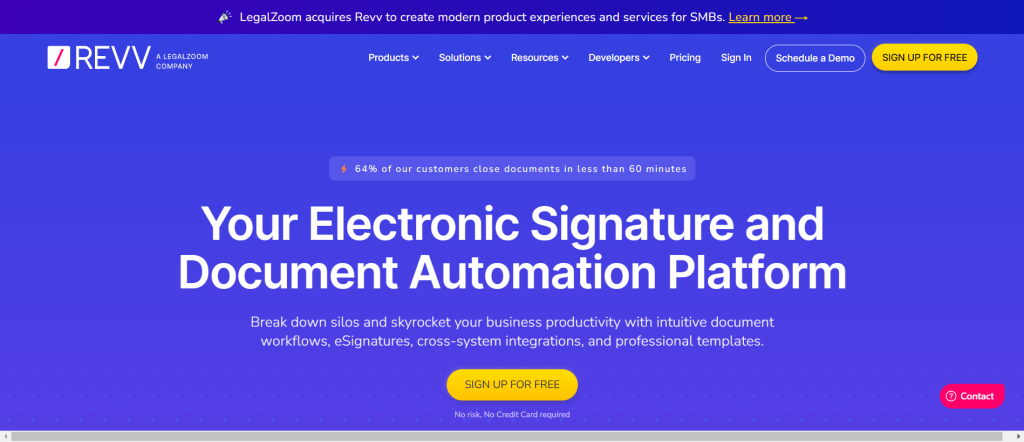 Revv has been in the document automation space for a while and was recently acquired for an undisclosed sum. Over the years, it has built a name for itself as a document automation platform for small and medium businesses – specifically with an emphasis on sales teams.
It provides tools for collecting data via questionnaires, importing data from third-party tools, and conditional logic applied to the document. It's relatively straightforward to use and documents can be modified with a drag-and-drop editor.
One of Revv's key features is its integration with popular business tools, such as Salesforce, HubSpot, and Zapier. This integration allows users to pull data from these tools directly into their documents, reducing the need for manual data entry and streamlining the document creation process.
Revv also provides electronic signature software so its customers can sign documents without having to integrate with another tool. It rounds out its feature set with simple collaboration tools to speed up the approval process.
Now, here are three potential cons of using Revv:
Limited customization options:
The UI is complex for many users
Pricing
Revv doesn't publicly disclose pricing so you'll have to reach out to the sales team to get a quote.
Rally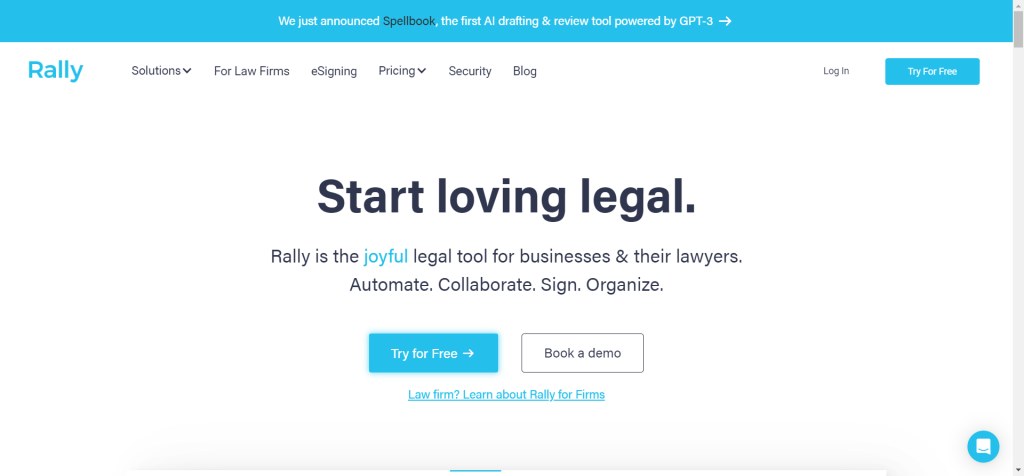 Rally is a document automation platform designed to help lawyers and law firms create and manage legal documents. The platform offers a range of features that make it possible for you to create custom templates and automate document workflows. With Rally, users can create legal documents such as contracts, leases, and wills using a simple drag-and-drop interface.
Rally Legal also offers collaboration features, such as sharing the matter workspace with clients, requesting reviews, and even meeting booking tools. The platform also includes analytics tools that provide insights into document performance and help users identify areas for improvement.
In addition to its document automation features, Rally Legal includes electronic signature functionality that allows you to collect legally binding electronic signatures. The platform offers built-in security features to ensure that documents are protected throughout the document creation and signing process.
Now, here are three potential cons of using Rally Legal:
Limited customization options:
Limited integration options: Rally Legal currently only supports integration with a limited number of legal research tools, which may be a disadvantage for law firms that rely on other research tools.
Pricing
Rally has three pricing plans which are determined based on the features you have access to. Each plan only comes with a single user.
Lite – $99/m
Essential – $399/m
Premium – $999/
LawYaw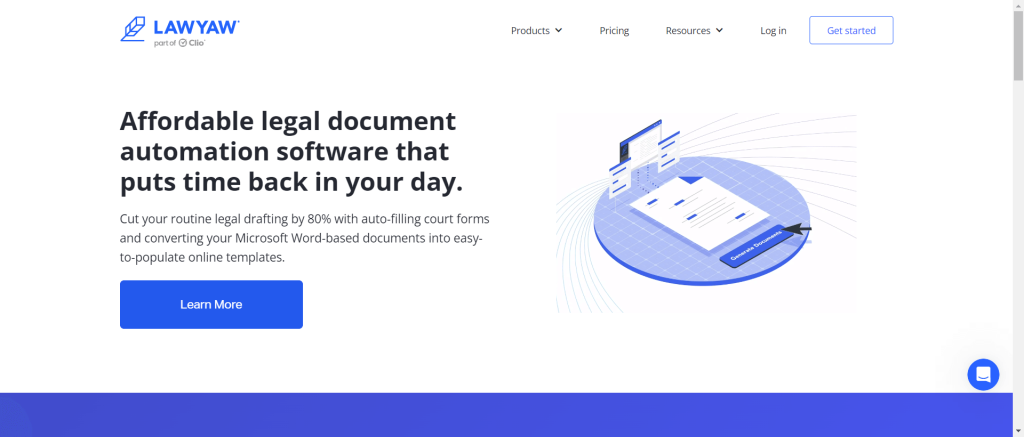 Lawyaw is a document automation software designed specifically for law firms and legal professionals. The platform offers a range of features that help you create, manage and automate legal documents, such as pleadings, contracts, and discovery requests.
One of Lawyaw's most notable features is its drag-and-drop interface that allows users to easily customize their document templates, making it easy to create professional legal documents without the need for coding or advanced technical skills.
It provides electronic signature tools so that you'll be able to gather relevant signatures on your documents without integrating or using a third-party tool. This can help further streamline your document workflows and enhance productivity.
Finally, Lawyaw includes analytics tools that provide insights into document performance, helping users to identify areas for improvement and optimize their workflow processes.
Here are three potential cons of using Lawyaw:
Learning curve
Limited customization options
Pricing
Pricing is divided based on court form libraries and document generation. There's only a single document generation plan which starts at $110/m and increases based on the number of users you have.
Docupilot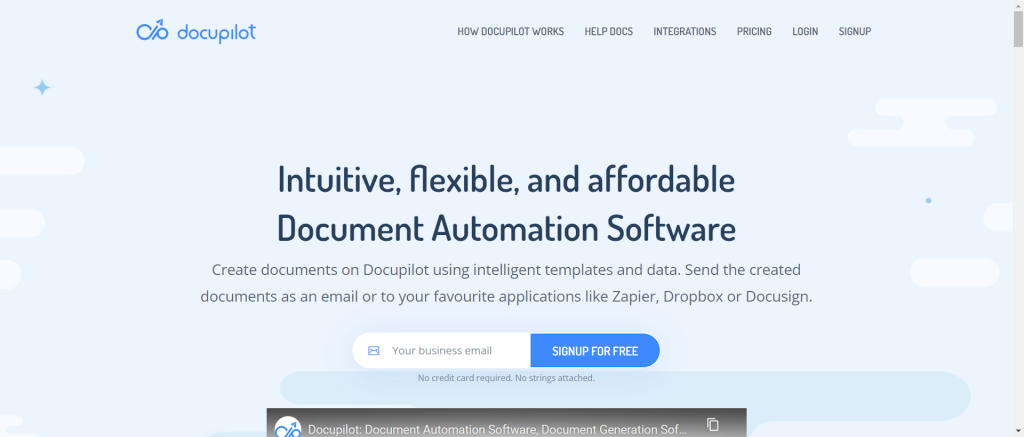 Docupilot is a document automation platform that enables you to create, manage, and automate the processing of various document types such as contracts, invoices, proposals, and more. The platform uses a simple editor that allows you to create variables manually. These variables are then changed out for the imported data.
It supports a wide range of document types such as Microsoft Word, PowerPoint, and even Excel files. It is a bit more complex to use and the interface is simple but if you need to get started with document automation quickly then it's a decent choice.
Here are three potential cons to using Docupilot:
Limited customization options.
It's a bit more difficult to work with than many other options.
Pricing
Docupilot has quite a few pricing plans which are segmented strictly based on the number of documents you need to create every month. It starts at $29/m and goes up to $699/m.
What to look for in Document automation software
Document automation software can significantly enhance business productivity by automating the creation, management, and processing of documents. However, there are several things that should be considered when selecting document automation software to ensure it aligns with your specific business needs.
Firstly, it's crucial to assess the software's user interface and ease of use. The software should be intuitive and easy to navigate, allowing users with minimal technical expertise to create documents quickly and efficiently. An added bonus is the ability to redline contracts from within the software. A user-friendly interface can save time and reduce errors, leading to a more productive workforce.
Secondly, document automation software should have customizable templates to match your organization's branding and style guidelines. Customization is crucial as it allows businesses to tailor the software to their specific needs and branding, providing a consistent look and feel across all documents.
Thirdly, the software should have powerful integrations with other business tools such as CRM, ERP, and workflow automation software. This enables the automation of the entire document lifecycle, from data collection to document generation, editing, approval, storage, and retrieval.
Fourthly, the software should support multiple document formats, such as PDF, Word, and HTML, enabling businesses to generate documents in various formats and adapt to different communication channels.
Lastly, the software should provide data security and compliance features. This includes data encryption, secure document storage, and audit trails to ensure data privacy and compliance with regulatory requirements.
Conclusion – what is the best legal document automation software?
There are many legal document automation software options available and this guide has gone through some of the best. It's important to understand that there is no perfect tool for everyone – only the best one for you.
Take a look at the list and do further research on the ones that stand out to you. Once you have a solid understanding of exactly what it brings to the table, go ahead and sign up to use it and experience the power of document automation for yourself.
You can learn more about DoxFlowy and all it has to offer by following this link.