Legito has been around for a few years and has evolved over time to be a strong player in the document automation software space. With that being said, it's not for everyone which is why there's a growing need for Legito alternatives.
In this guide, you'll learn about seven Legito alternatives that will help you automate your contracts, negotiate important documents, and run a much more efficient document management operation.
What is Legito
Legito is a cloud-based document automation and management platform that helps businesses and individuals streamline their document creation and management processes. It provides a user-friendly interface for creating, storing, and sharing customizable legal documents, contracts, and other forms.
The platform features a wide range of templates, including contracts, NDAs, HR documents, and more. You can also create templates from scratch or customize existing templates to meet your specific needs.
Legito also provides powerful document automation features, such as smart text, conditional logic, and data merging, which automate repetitive document creation tasks. Additionally, it allows for collaboration among team members and enables users to securely sign documents electronically.
Criteria for evaluating Legito alternatives
There are several factors that were considered when choosing the best Legito alternatives available. You may have specific criteria when evaluating alternatives and you can simply add them to the list of things we're already using to vet the tools.
Features and functionality – First and foremost, before you look at anything else, the tool needs to have the specific features you're looking for. Every tool on this list has the core features of document automation. Going beyond that, each one has one or two unique features that may not be available in other solutions such as a clause library or direct data source integrations with certain third-party tools. It'll be up to you to determine whether or not that is the deciding factor in your choice.
Ease of use – Another important consideration is how easy it is for you to start and continue using the platform. Is it complex to get a document workflow set up? Are there resources to help you make the most of it? Is everything simple and intuitive?
Pricing – The cost of the solution – both direct and indirect – are important factors to take into consideration. Some tools are cheap on the surface but are expensive in practice because you need to do a lot of set up or training. Some are expensive on the surface but will end up being cheaper than other options over the long run.
Support channels – Last, but certainly not least, are the available support options. How often are they available for support, how fast do they reply, how many channels can you receive support, and what's the quality of the support?
Every Legito alternative that made this list excels in at least one of these areas. All that's left for you to do is shortlist the one that makes the most sense for you and give it a test run.
Best Legito Alternatives
DoxFlowy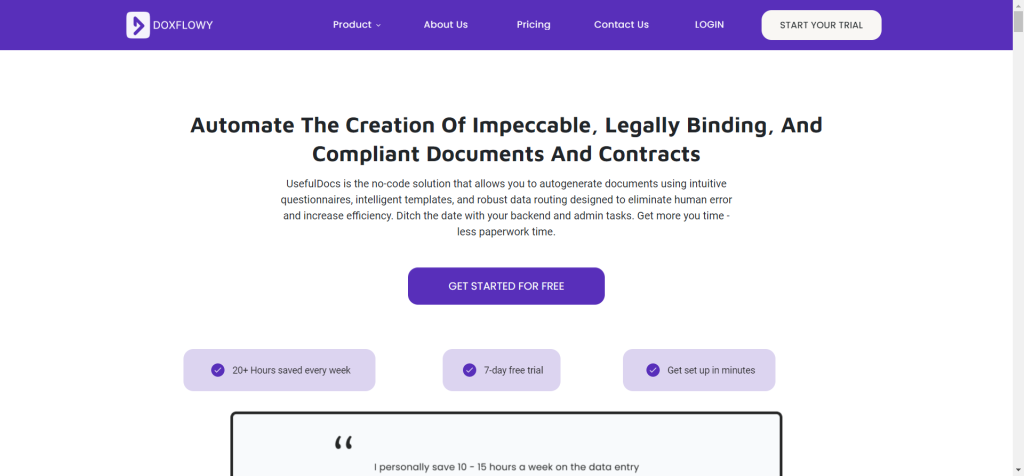 DoxFlowy is a document automation platform and contract management tool that's created with small and medium businesses in mind. It's not just limited to basic contracts. You can use it to create complex document workflows that streamline multiple steps in your current processes and can extend well beyond contract production.
The platform has a document editor that feels like the tools you're already familiar with so there won't be a steep learning curve when trying to create documents. You can make documents from scratch, upload documents, or choose from the collection of templates available. The end goal is to set up dynamic templates that can take advantage of the logic engine.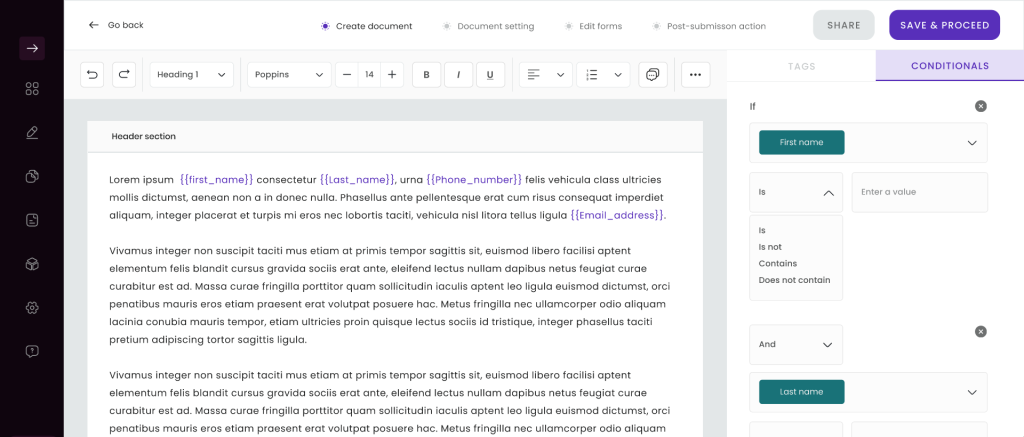 The logic engine allows you to take a single document, set up different rules, and produce multiple documents depending on how the user answers questions.
Another key feature is the intuitive questionnaire that can double as a market research survey if you so choose. A questionnaire is automatically generated from the template which can then be customized to suit your needs. Add your logo, include sections, customize tags, tweak the language for surveys, and more.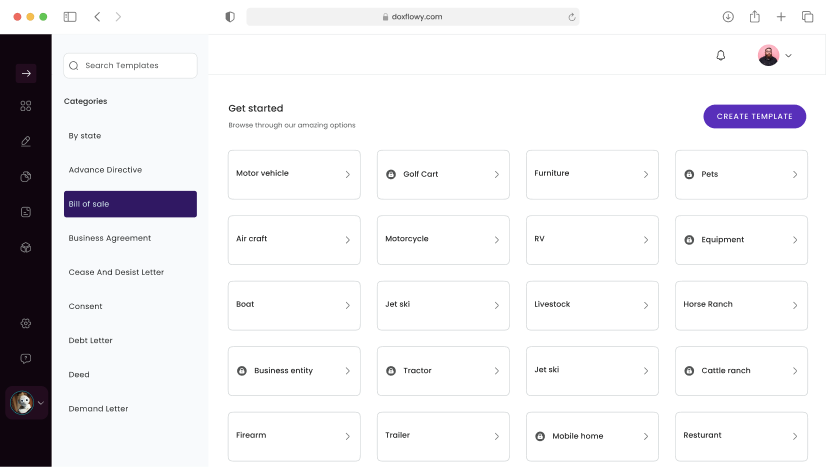 When respondents answer the questionnaire, you can view the responses in multiple views. This allows you to identify patterns and make adjustments as needed. Of course, there are reports that show you the status of the document and let you know the best next steps to take.
You also have granular control over the document settings which include things like numbering, the download file output format, the size of the final document, whether your end user can access the final document, and more.
The platform comes with a central document repository that you can use to filter, edit, and search for documents. You can also organize your contracts, documents, and workflows within folders so it's easier to manage them – especially when your document library gets larger.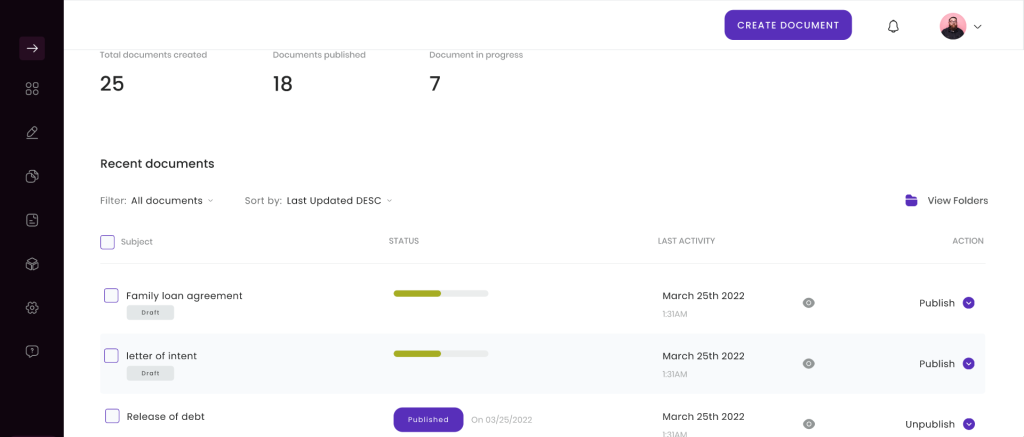 DoxFlowy also provides multiple integration and delivery options after the contract has been created from electronic signing to webhooks. You can send the right information to the right place without lifting a finger.
Pricing
DoxFlowy has three pricing plans which vary based on the number of documents that can be created a month and the features available.
Core – $99/m
Team – $199/m
Business – $499/m
Templafy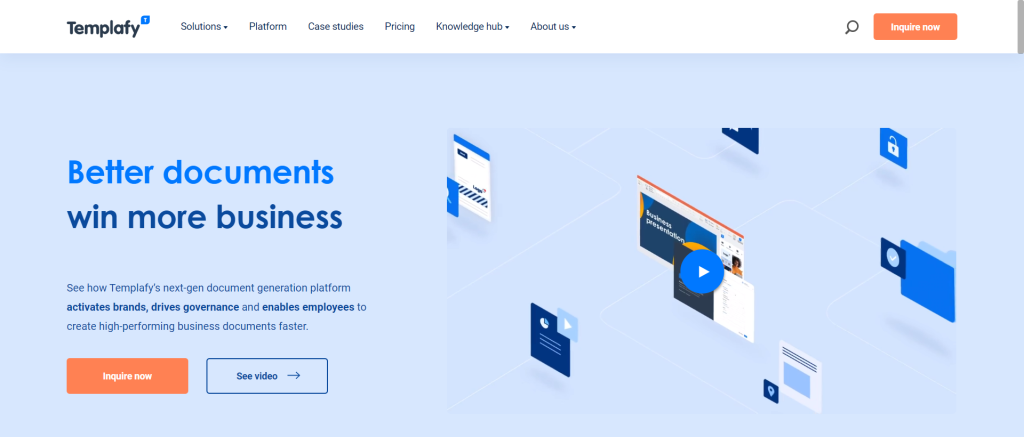 Templafy is a document automation software that streamlines the creation of documents, presentations, and emails for businesses. Its key features include an intelligent template and asset management system, smart document automation, and content enablement.
One of Templafy's standout features is its intelligent template and asset management system. The system allows businesses to manage and organize their templates and assets in a central location. It ensures that all documents adhere to brand and legal guidelines by enforcing style and formatting rules.
Templafy's smart document automation feature allows users to automatically generate complex documents, such as contracts or proposals. The software populates the required fields based on user input, saving time and reducing the risk of errors.
In addition, Templafy offers a range of integrations with other software platforms, including Microsoft Teams, Salesforce, and Box. This ensures you can work with yiyr preferred tools, while still benefiting from the functionality provided by Templafy.
Pricing
Templafy has custom pricing that's not available on its website. To learn more, you'll need to talk to one of the sales professionals.
Documint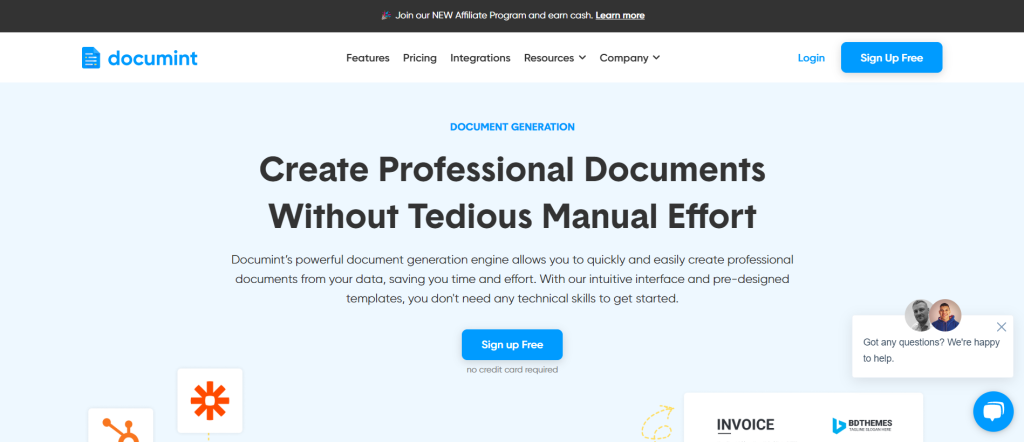 Documint is a cloud-based document automation and assembly platform designed for businesses of all sizes. The platform allows users to store, manage, and create documents securely in the cloud, providing a centralized location for all document-related activities.
With Documint, the focus is on creating stunning templates that can then be generated based on inputs from various data sources. It has a drag-and-drop document editor and supports a wide range of document types such as invoices, proposals, contracts, and quotes.
You can include conditional logic in your templates to ensure different variables are properly captured and added to the document. Finally, you can set up various delivery options after the document has been generated to ensure your workflows continue uninterrupted.
Pricing
Free (10 documents) – $.20 per additional document
Silver (200 documents) – $30/m $.015 for additional document
Gold (800 documents) – $80/m $.10 for additional document
Platinum (3,000 documents) – $150/m $0.05/additional document
Crove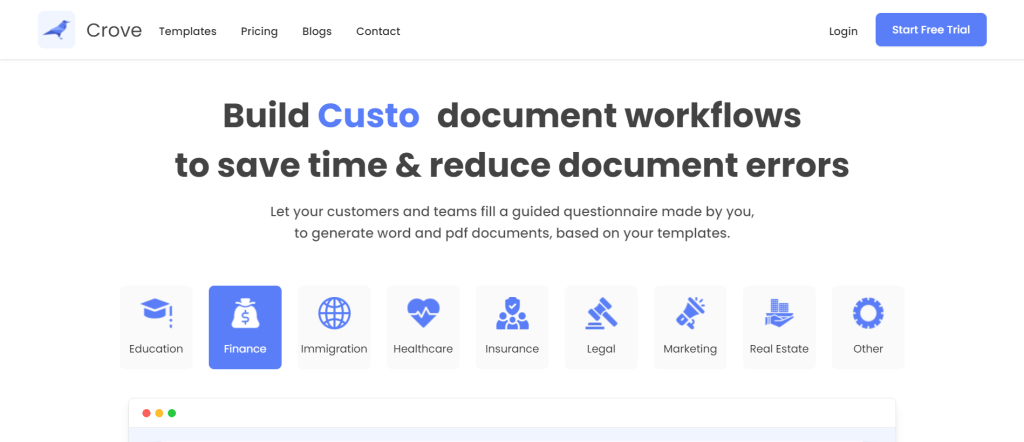 Crove is a newer cloud-based document automation and generation platform that's targeted at small businesses. It takes a template-based approach to document automation and allows you to create forms that can be distributed to your end user for them to fill out. Once filled, a custom document is generated.
It has the core features you'd expect such as a document editor, tagging and variables, and conditional logic. And even math calculations. It relies on Zapier to connect with third-party applications instead of a direct integration so keep this in mind as you may have to take out a Zapier subscription to get the most out of it. Finally, it provides electronic signatures with an audit trail to help prove the legality of the signature.
Pricing
Crove has two main pricing plans which vary based on the number of templates you can create, the speed of customer support, and your ability to integrate with third-party apps.
Personal – $29/m
Business $99/m
Docupilot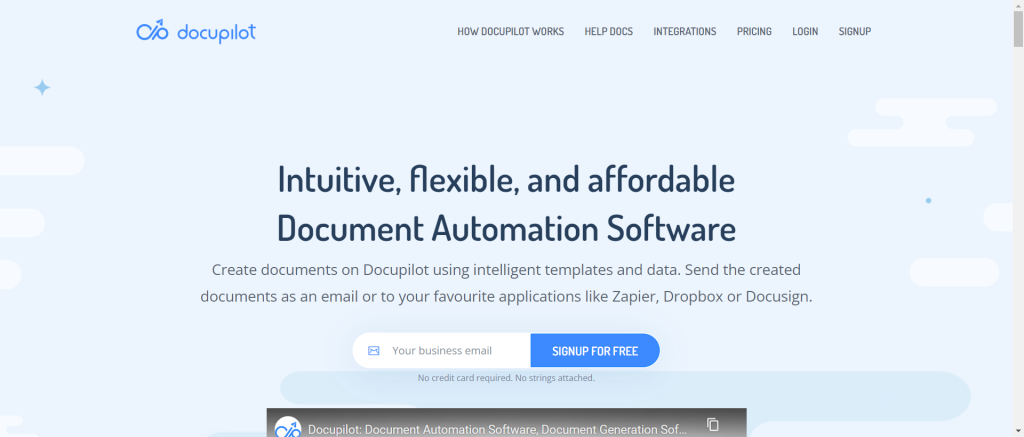 Docupilot is a cloud-based document generation platform that simplifies the process of creating and distributing documents for businesses. With Docupilot, you can create custom templates for their documents using a drag-and-drop interface.
The platform also integrates with popular business tools like Salesforce and Google Sheets, allowing you to import data and create documents automatically. Docupilot also enables you to merge data from multiple sources to create personalized documents.
It has what's known as delivery options which allow you to send documents to various places after it has been created such as via email, download, or integration with other applications. The platform prioritizes data security, ensuring that documents are secure and accessible only to authorized users.
It doesn't have advanced features such as payment processing or even detailed reports but, it is an inexpensive tool that does the core document automation well.
Pricing
Docupilot has quite a few pricing plans which are segmented strictly based on the number of documents you need to create every month. It starts at $29/m and goes up to $699/m.
Gavel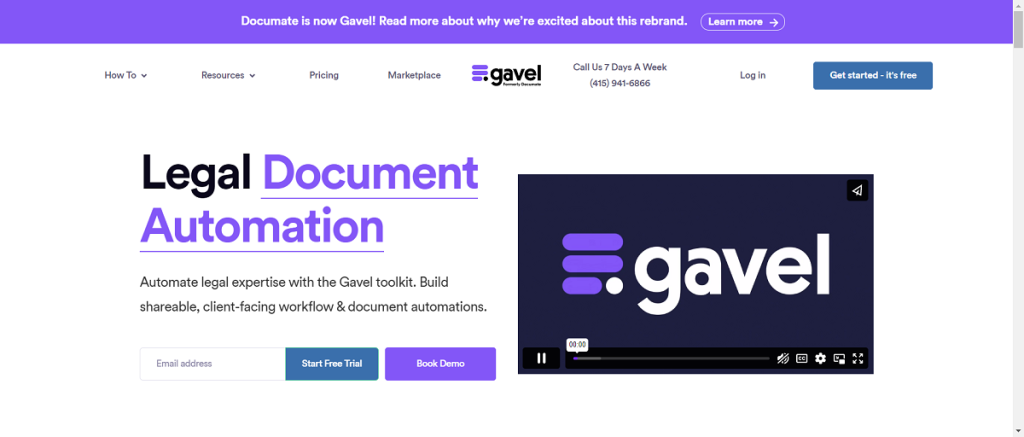 Gavel is a cloud-based platform that provides a range of legal document automation tools for law firms, legal departments, and businesses. The platform allows users to automate the creation of legal documents, such as contracts, agreements, and forms, using customizable templates and third-party integrations.
Gavel's document management tools are designed to help legal teams work more efficiently and effectively, reducing errors and improving the speed and accuracy of document creation. The platform's integration with popular legal research and practice management tools also makes it easier for legal professionals to access and manage their documents and legal data.
In summary, Gavel.io is a comprehensive legal document automation platform that streamlines the document creation process and improves collaboration and efficiency for legal professionals. With its intuitive interface, customizable templates, and range of integrations, Gavel.io provides a powerful solution for law firms, legal departments, and businesses looking to improve their legal document workflows.
Pricing
Gavel has three pricing plans which start at $99/m and goes up to $399/m. The plans are based on the number of workflows you have and the number of rows per document template.
HotDocs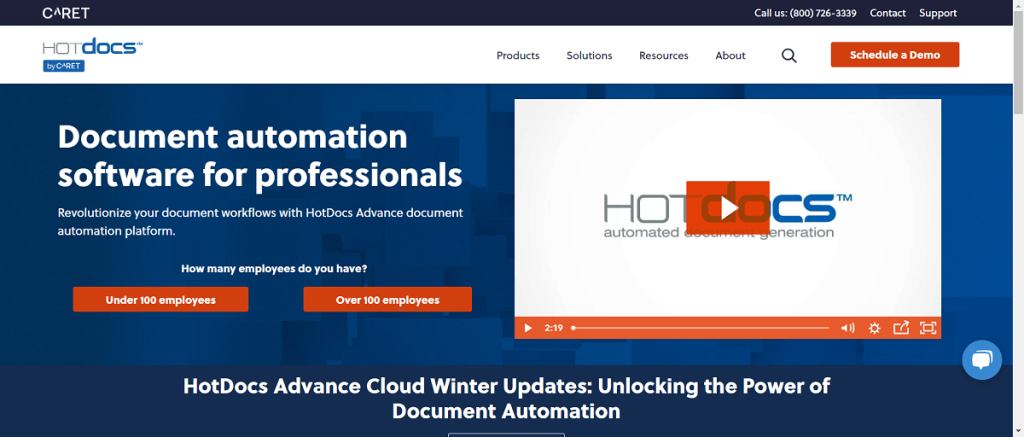 HotDocs is a software platform that enables users to automate the document creation process. It is used by law firms, government agencies, banks, and other organizations to create and manage complex legal documents, contracts, and forms. HotDocs uses powerful automation technology to streamline the document creation process, reducing errors and improving efficiency.
The platform allows you to create templates for documents, which can be customized to include dynamic fields and data validation rules. Users can then input data into the templates, which HotDocs uses to generate the final document automatically. The platform's advanced logic and rules engine ensures that the document is accurate and complies with all relevant regulations and guidelines.
HotDocs also includes a range of features for document management and collaboration, allowing teams to work together on document creation and review, and ensuring that everyone has access to the latest version of the document.
Its range of features and integrations make it a versatile solution for a wide range of industries, and its ability to reduce errors and improve compliance can help organizations to save time and money while reducing riskTop of Form
Pricing
HotDocs doesn't publicly display its pricing so you'll have to reach out to the sales team to get a quote based on features and the number of users you have.
Conclusion
Legito is a solid document automation platform but that doesn't mean Legito alternatives aren't needed. This guide has gone through the most effective tools for document automation on the market right now. Each one has its own pros and cons that you'll need to be aware of.
Think of this list as a starting point to give you a better idea of the options available and what to expect from any tool you're interacting with. Take a moment to look through DoxFlowy and all that it has to offer and start a free trial today.