Gavel, previously known as Documate, is a document automation platform that serves a wide range of customers with a particular emphasis on lawyers. It's one of those tools that once you start using, it's difficult to extricate yourself. That's because it's tied to so many important processes.
Because of that, it's important to understand Gavel's pricing and plans. This goes beyond the surface level and looks at how the plans and limitations will impact your ability to make the most out of document automation.
In this guide, you'll learn about Gavel's pricing and plans, key features, integrations, and much more. At the end of this guide, you'll have enough information to make an informed decision.
What is Gavel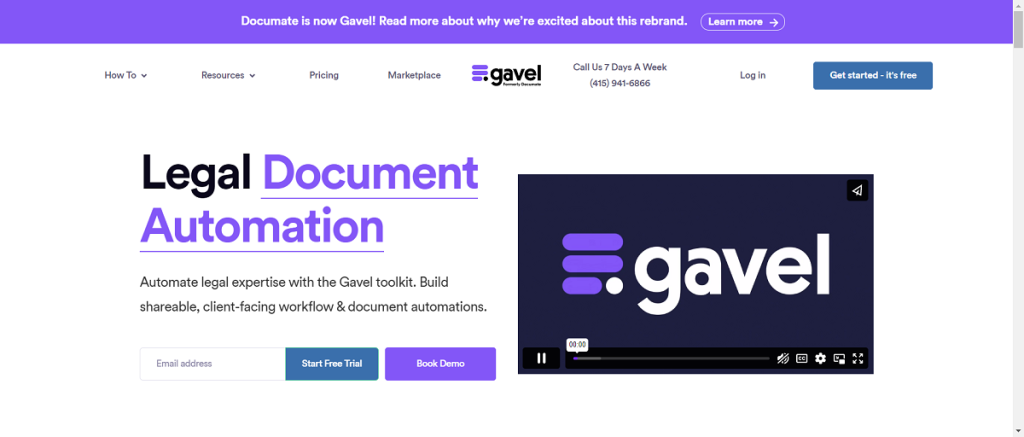 As mentioned previously, Gavel is a document assembly and document automation platform. Gavel allows its customers to create templates that can then be used to automatically assemble documents when data is collected.
It refers to these document automation workflows as apps and it markets itself as a way for lawyers to streamline operations. Additionally, it's a way for customers to unlock another revenue stream without impacting their billable hours.
The interface takes some getting used to but there is a getting started series that walks you through the major functionality. One place where Gavel falls short is its integration ecosystem. There's only a limited number of integrations with third-party apps. You'll have to manage most of them yourself via its API which is only available for enterprise users. All things considered, it's a strong document assembly platform.
Gavel key features
Beyond Gavel pricing, it's important to know what the main features are. It includes major functionality that makes it a solid document automation platform.
Document editor – You can upload a document directly to Gavel and it'll be converted to an editable document in most cases. Conversely, you can draft your document from scratch. In both cases, you can use its document editor which will allow you to format the document to meet your needs.
Client portal – Your users, when filling out the data collection questionnaire, can choose to register an account (or you can make it a requirement). This allows them to save their work and come back to it later which is especially useful for longer questionnaires or those that require information that may not be readily available.
Conditional logic – This is an important feature that document automation tools should have because it allows you to create a single document template but have different output files based on the information provided. For example, you can choose to add or remove clauses based on the way questions were answered or the information provided.
Email notifications – Set up notifications to go to the right people as part of your workflow. Conversely, choose to send the entire document via email after it has been created.
Data management – Data isn't necessarily tied to a single document. Whatever data you collect from your questionnaires or import from other sources can be used within Gavel. You can either view the data, reuse it, or even delete it based on your needs.
Marketplace – There's a marketplace provided by Gavel that allows you to take advantage of 'apps' that have been built by other users. These workflows cover a wide range of use cases such as name change documents and bills of sale. Some of them are free and some are paid.
Gavel pricing
As of this writing (May 2023), Gavel's pricing is divided into monthly and yearly plans with the yearly plans providing a discount over the monthly price. For both monthly and yearly pricing, there are three pricing tiers to choose from namely the Lite, Standard, Team, and Enterprise. Pricing starts at $83/m when paid annually and goes as high as $350/m. Beyond that, there's custom pricing for enterprise users. Let's take a closer look at what each plan brings to the table.
Gavel plans
Each plan offers different limits and features. Plans are targeted at different types of customers from power users to those trying to get their feet wet with document automation.
Lite
The Lite plan is $99/m and comes with a single seat for you to build dynamic templates and document automation workflows. You're limited to a total of 10 workflows and each workflow is a dynamic document template and the accompanying automation processes that make it work. Surprisingly, there's also a limit to the number of emails that you can send out every month to yourself and to other recipients. If email notifications are an important part of your workflow, then this can serve as an indirect limit to the number of documents that you can create every month. Finally, there's no stated limit to the number of documents that can be generated, and you're able to carry out basic branding.
Standard
The standard plan is $199/m and is a step up from the Lite plan. It has all of the features contained in the previous plan but provides higher limits in some areas. It comes with 2 builder seats, 25 workflows, and up to 2,500 emails sent each month. Branding is also expanded which allows you to add your logo and favicon to pages. This is also the plan in which you get access to the majority of the integrations such as Stripe and Zapier.
Team
The team plan is $350/m and comes with up to three users, support for 50 workflows, and you can send up to 6,000 emails a month. You can take the branding to the next level by setting up your own custom subdomain and editing the CSS to make it truly match your brand. You can also share workflows between people that have access to the builder which isn't available on other plans.
Available integrations
It only has a handful of integrations which include Clio, Stripe, Zapier, and DocuSign. There's also an API that you can access but it's only available on the enterprise plan which makes it out of reach for the vast majority of users. This is one area where Gavel is lacking when compared to other tools in the space.
Customer support
Customer support isn't determined by the plan you're on. Every customer has access to email, phone, and screen share support. Possibly the most useful of them all is the screen share support because you can walk a customer support rep through the exact problem you're experiencing and get to a resolution faster. Live chat is noticeably missing so keep that in mind.
DoxFlowy is the best Gavel alternative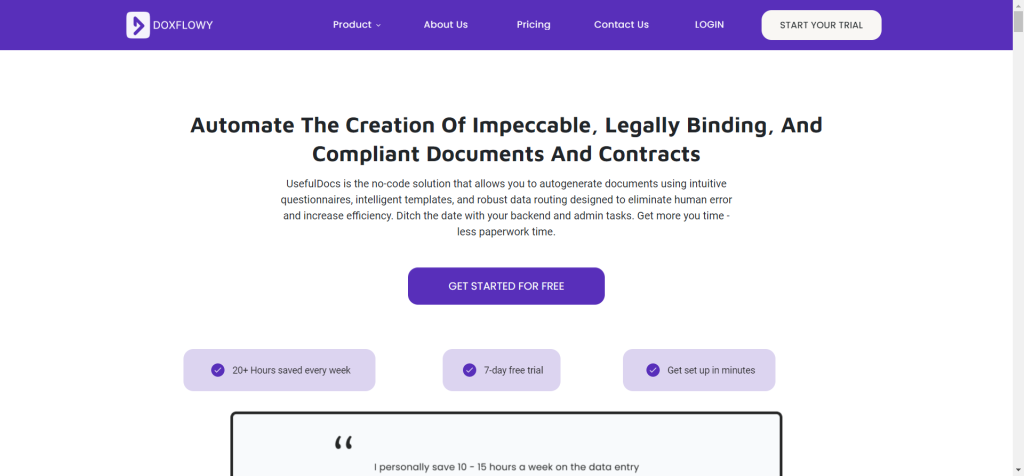 While Gavel is a solid tool, it may not be for everyone. If you're looking for a Gavel alternative, DoxFlowy is a solid choice. It's a document automation and electronic signature platform that has a wide range of features to help you not only automate documents but implement contract lifecycle management as well.
It has a robust document editor that allows you to draft from scratch, add conditional logic, add tags and variables, and format the document to your heart's content. You can also invite users to help you work on the document right within the editor. These people don't need to be part of your account and you can revoke access whenever you see fit.
You have granular control over the document settings and can customize the form to fit your needs. You can even ask additional questions to better understand your audience and get market research data at the same time you're collecting data for your documents. In other words, you're not limited to just using it to automate documents, you can use the forms in multiple ways and even analyze the data provided.
Going forward, there are multiple integration and notification options you can take advantage of including Zapier and custom webhooks.
Key features of DoxFlowy
Conditional logic – You can set up if/then conditional logic for each document so that if certain conditions are met, the dynamic template will change. This can save you a lot of time and cut down the number of workflows you need to create.
Robust document settings – You have granular control over each document that's created and this will allow you to choose the output file format, determine what the end-user can do after the document is created, and much more.
Powerful document editor – The document editor feels like creating a Word document which most people are familiar with. There's little to no learning curve, you can add a header and footer, format your headings, and a wide range of other things.
Team management – invite all of your teammates to create and manage document workflows. Each plan allows you to add as many users as you need. You can set also their permission and access levels to protect sensitive information.
Electronic signatures – You can use electronic signatures as part of your document assembly workflows or you can get contracts signed independently of your automation workflows.
Strong search and document organization tools – Instead of having all your documents and agreements in one place which can be hard to navigate, organize them as you see fit. You can add them to folders based on the type of document, the date, or other factors that are important to you. There's also a strong search function that you can take advantage of to quickly unearth the documents you need.
Large collection of ready-to-use templates – access an extensive collection of templates which range from invoices and bills of sale to powers of attorney and lease agreements. You can use them freely and make them your own.
DoxFlowy pricing starts at $99/m and there's no limit to the number of users you can invite or the number of emails you can send each month. It's limited based on the number of documents generated.
FAQs about Gavel pricing
Is Gavel an expensive document automation software?
In the grand scheme of things, no. Gavel is on the lower end of the pricing spectrum and should be affordable for most users.
Can I use Gavel for free?
It offers a seven-day free trial for all of its publicly priced plans.
Can I integrate Gavel with my other software?
It has a limited integration ecosystem and only has direct connections to about four applications. For everything else, you can use Zapier or its API.