Document automation software is, for many organizations, the best thing since sliced bread. It oftentimes allows you to do away with hours of manual work and automate entire workflows.
But, what's the best document automation software for you? That's a much more difficult question to answer.
In this guide, we'll look at what document automation software is, the best document automation software available right now, and what to look for in document automation software.
What is document automation software?
Document automation can be defined as the process of using technology solutions – usually software – to compile relevant data and then use that data to create documents without manual intervention.
Document automation is facilitated by using a base document template, conditional logic, and a data source. This data source could be from an integration with the tools you're already using or from a form that was set up for the purpose of document automation.
While the definition of document automation is straightforward, it can be difficult to determine the best document automation software for you. That's because each solution is slightly different. They were created with different types of customers in mind. For example, some may be for organizations with thousands of users while others may be for organizations with one or two users.
The best document automation software in our collection will touch on software that's ideal for different types of situations. Let's dive in.
Best document automation software
1. DoxFlowy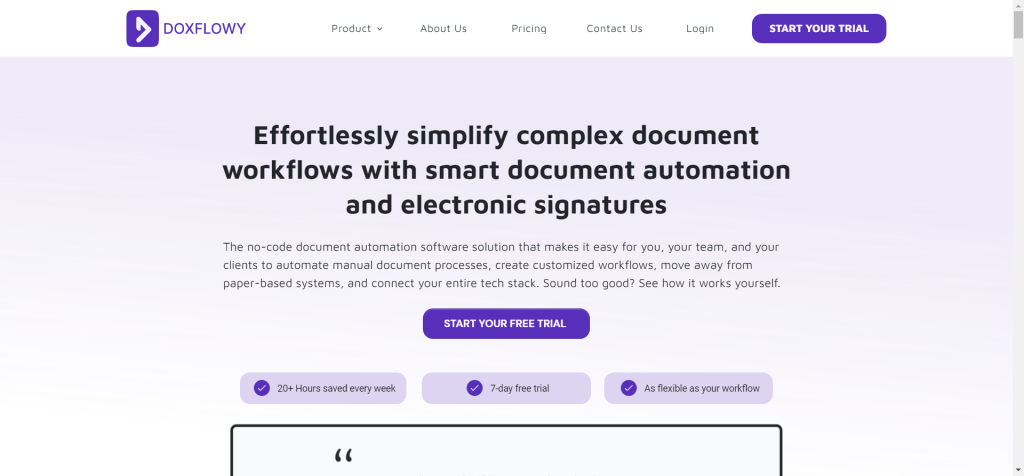 DoxFlowy is a no-code document automation platform that takes two things into consideration – ease of use and functionality. Whether you're a law firm that's constantly creating routine documents or a consultant that needs to lightly customize each contract, DoxFlowy has you covered.
It has the core features you'd expect such as customizing the type of output file, creating customized forms that match your brand, electronic signatures, interactions with third-party tools, and template creation.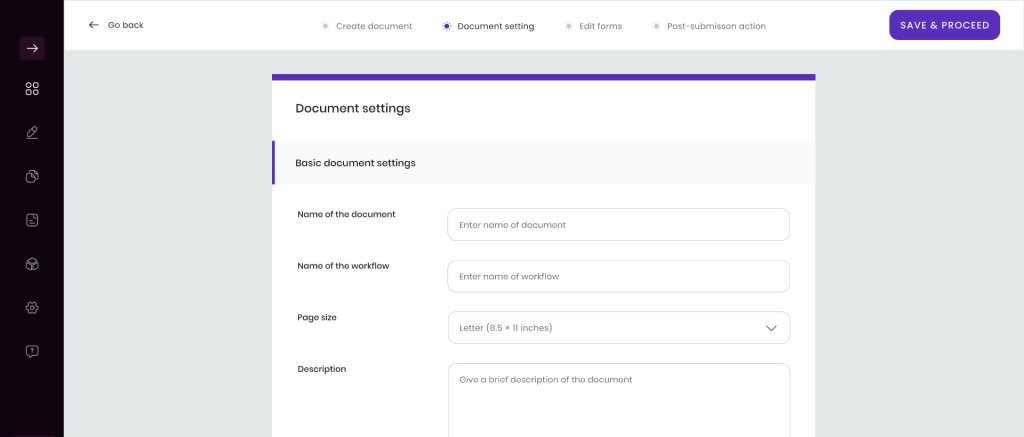 You can set up conditional logic to add or remove clauses from the document and take advantage of a powerful word processor that lets you edit fonts, use a wide range of formatting options, and so much more.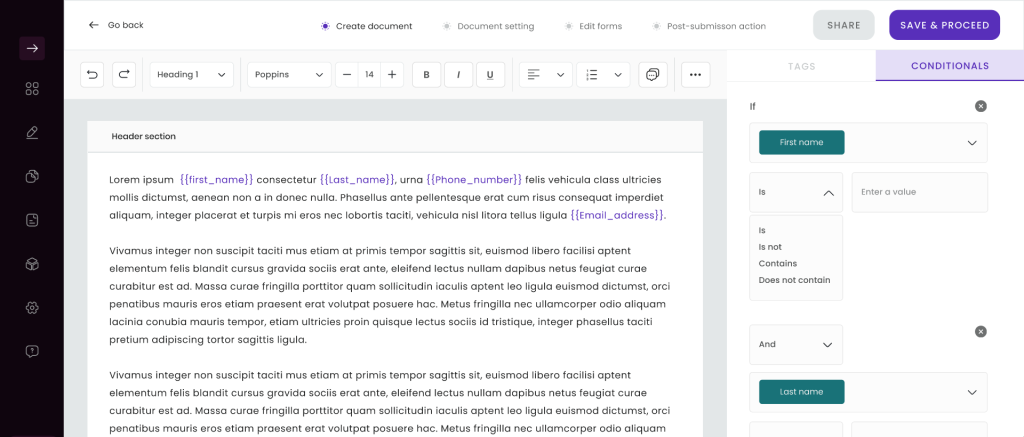 DoxFlowy is unique in that it has robust analytics that let you know exactly how folks interacted with your forms so you can combine your form data collection with market research. Build documents and get a clear idea of who your customers are.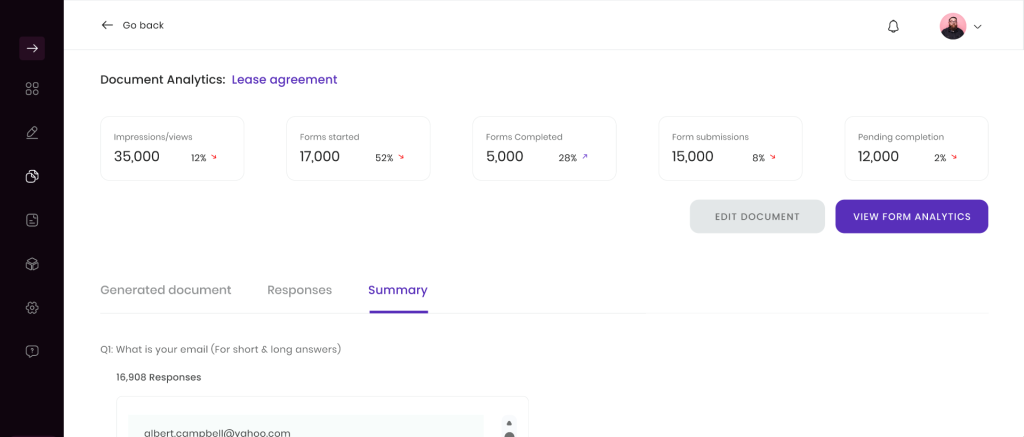 Key features
Folder organization
Powerful editor
Electronic signatures
Electronic signature audit trail
Form customization
Conditional logic
Document settings management
Email notifications
Email documents
Integrations with third-party tools
Robust analytics
Template creation and management
Contract negotiation and redlining
Central document view
Document collaboration and commenting
Custom redirect settings
Custom branding
Pricing
DoxFlowy pricing starts at $99/m and comes with a 7-day free trial. Additional users are $25/m. The pricing varies depending on which plan you've chosen and which features you want to access.
2. Gavel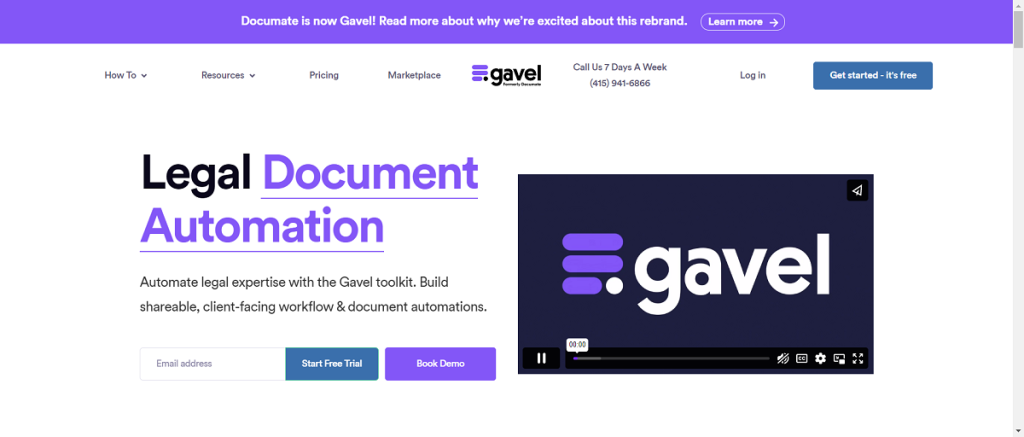 Gavel (formerly known as Documate), is a document assembly platform that emphasizes its focus on law firms. It calls its document automation workflows 'apps' which can be used as standalone services to open up a new revenue stream for law firms.
To make this a reality, it has a few unique features such as a client portal and integrations with payment processing tools like Stripe so you can collect payment for legal documents. Beyond that, it has the core document automation features you'd expect from this type of software.
You can present forms to visitors to collect data that will then be used to generate documents. Conditional logic is also available. Gavel is a strong document automation platform that's worth checking out if selling the generated document is important to you.
Key features
Form creation
Client portal
Payment collection
Collaboration
Payment collection
Document editor
Team management
Custom branding
Client data manager
Share document workflows
Pricing
Gavel starts at $99/m and there are multiple pricing plans to choose from based on the features you're interested in.
3. Formstack Documents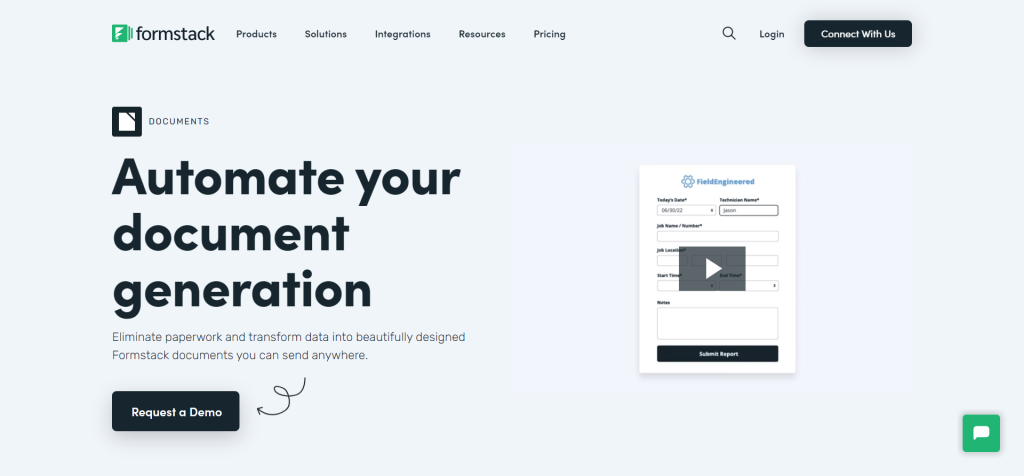 Formstack Documents is one of the many products that Formstack develops and markets. It allows users to create a wide range of documents ranging from proposals to application forms. Like other solutions on this list, you create a form and a dynamic template that adapts to the form inputs.
The tool supports conditional logic, data routing, integrations with third-party tools, generating documents from your CRM, and even access to an API.
While Formstack Documents has many features to help you automate documents, the learning curve is considered steep by many users. If you have the time to dedicate to learning the nuances of this platform, it could be a great choice.
Key features
Generate multiple documents from a single data source
Create forms based on the needs of the document
Third-party integrations
Template management
Conditional logic
Access to an API
HIPAA compliant
Pricing
Formstack Documents starts at $110/m and comes with two users. There are additional plans you can select if you need more documents generated every month.
4. Crove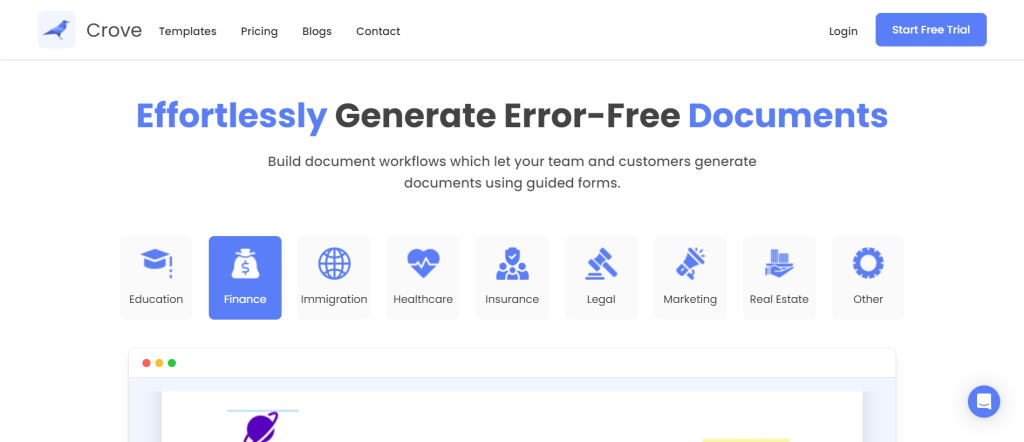 Crove is a relatively new document automation platform but it has been well received. The way it presents itself is simple but it has some powerful features under the hood.
The document editor is straightforward and will often remind you of using Microsoft Word. You can edit the formatting, add bullet points, adjust headings, and add tags by dragging and dropping them. You also have access to an electronic signature that comes with an audit trail to support the legality.
It does provide integrations but the emphasis is on using Zapier to get things done so there aren't many native integrations. Of course, if everything else works well for you then this shouldn't be a deal breaker.
Key features
Robust document editor
Conditional logic
Electronic signatures
Calculations
Multiple prebuilt variables for document automation
Integrations with third-party platforms
Automatically generate forms
Pricing
Crove starts at $19/m/user and that allows you to create up to ten templates for your document automation needs.
5. Revv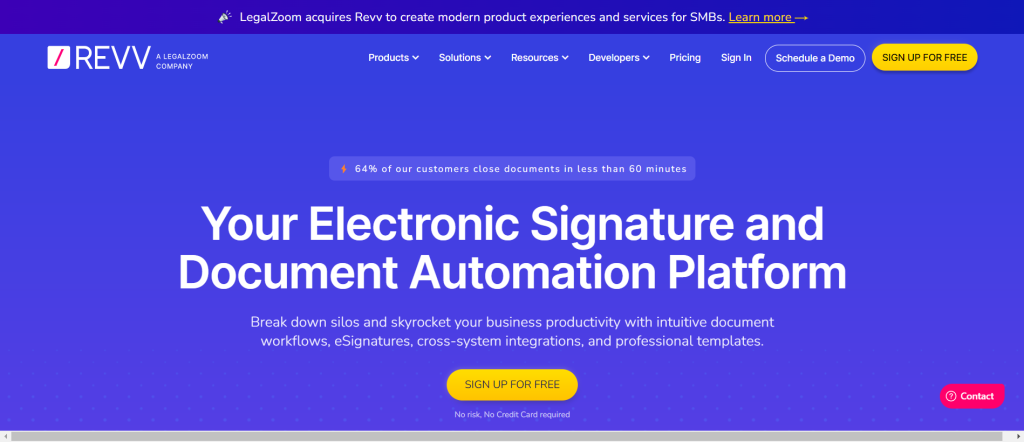 Revv is a document automation platform that was recently acquired by LegalZoom for an undisclosed sum. It focuses on the speed of operations so that you can get in and out while closing more contracts. This emphasis has made it popular amongst sales teams.
With Revv, you can pull data in from third-party platforms like your CRM to populate documents or distribute a form for people to fill out and get documents created in that way. It supports electronic signatures and has built-in audit trails to help prove the legality of the signature.
You can also integrate with third-party services directly through the API or by taking advantage of its native integrations. Revv takes a CRM-like approach to organizing your workflows which may be familiar to you if you're in sales. If you're not, it'll take some getting used to.
Key features
Electronic signatures
Integrations with third party tools
Document editor
Drag and drop interface
Autogenerated forms
Pull from multiple data sources
Template management
Folder organization
Pricing
Revv no longer displays its pricing publicly but the last time pricing information was available, it charged $19/m/user for the entry-level plan.
6. Concord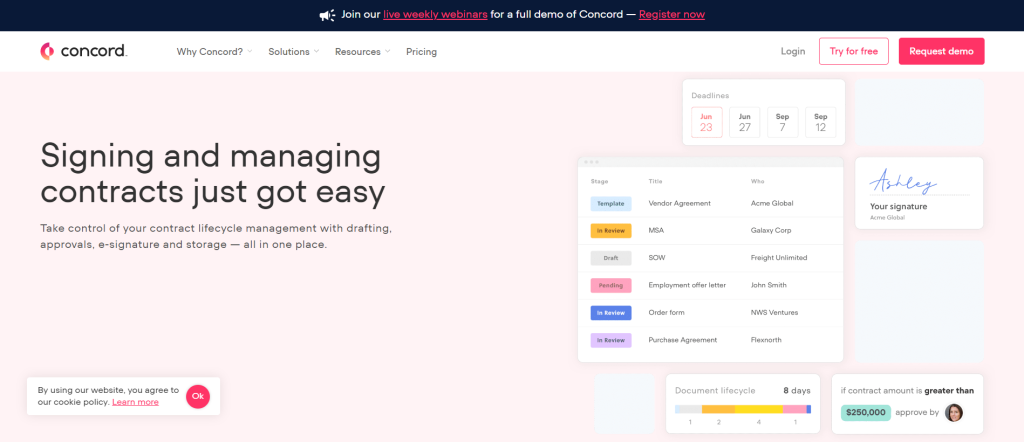 Technically, Concord is an electronic signature and contract management platform but it has a lot of overlap with document automation. While it may not be possible to do end-to-end document automation with the platform, it can help you streamline and optimize many processes.
It provides the tools you need to collaborate on contracts in the cloud, get approvals before the contracts are published, and even get electronic signatures from all relevant parties. It also sends you helpful reminders about when contracts are expiring and automated renewals are coming up.
Key features
Document and contract analytics
Electronic signatures
Template building and management
Collaboration and redlining
Approval workflows
Central document view
Team management
Pricing
Pricing plans start at $23/user/m and come with the core features of Concord minus approval workflows.
7. Woodpecker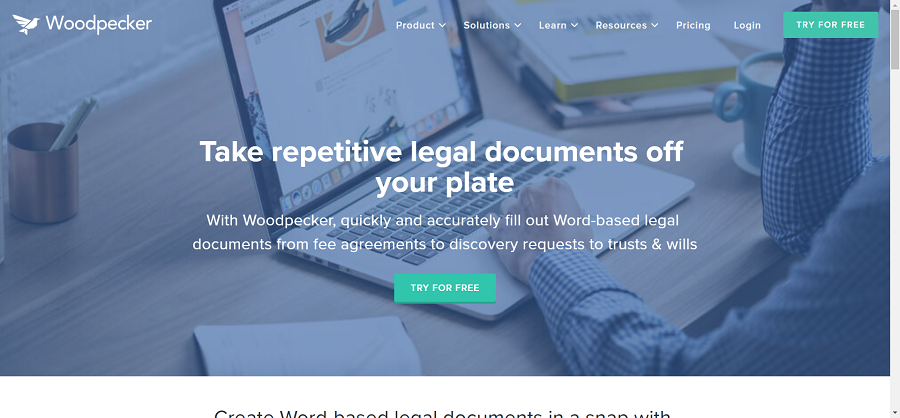 Woodpecker is a document automation solution that's specifically targeted at Microsoft Word users. It's a standalone saas application and a Word add-in that allows you to easily edit your documents and produce questionnaires to collect relevant data.
You're also able to generate multiple documents from a single form which means your workflow proceeds even faster. Woodpecker is a bit basic when compared to many of the tools on this list but it's a workhorse that gets the job done. If that's your major concern and you don't need too many bells and whistles then it's a solid choice.
Key features
Document editor
Form builder
Create multiple documents from a single form
Integrations with third-party tools
Add images to your questionnaires
Store client profiles
Pricing
Plans start at $39/m for two users and each additional user is $9/m.
What to look for in document automation software
Ease of use – This should be at the top of the list. No matter how great a piece of software is in terms of features, it won't matter if you're unable to use those features properly. That's where ease of use comes into play. Take a moment to explore the tool thoroughly and ensure it'll be easy for you and anyone else you're working with.
Features – Beyond the core document automation features, are there any functions that you need to make it work? Create a list of nonnegotiable features that any tool you're interested in should have. Before you start vetting the platform in earnest, make sure it has those features. If it doesn't you can move on to the next tool much faster.
Third-party integrations – The power of document automation comes, in part, from its ability to connect the different tools you use into a single workflow. Figure out the types of integrations the solution has. Are they native integrations or does it work with Zapier? Neither approach is inherently bad, just choose what makes the most sense for you.
Conclusion
Document automation is here to stay so it's important to choose the best document automation solution for your specific needs. In this guide, we've looked at multiple tools you can take advantage of.
If it's important for you to have a robust feature set and end-to-end automation the DoxFlowy is a great choice. If you want to be able to negotiate contracts and collect legally binding signatures then Concord is a solid choice.
At the end of the day, there is no 'best document automation' software for everyone. Just the one that's perfect for you.