HotDocs is a popular document automation platform that has been around for years. It was founded, sold, and sold again. During that time, many of its customers have become disillusioned with the software and the company's business practices leading to them looking for HotDocs alternatives.
In this guide, you'll learn about the most promising HotDocs alternatives, what each one brings to the table, and how much you can expect to pay for them. By the end of this guide, you'll have a good idea of which one is best for you.
What is HotDocs
HotDocs is a document automation software that allows you to generate custom documents, such as contracts, legal forms, and other types of documentation. With HotDocs, users can create templates for documents and fill in the variables with data, generating customized documents in a matter of minutes.
HotDocs uses a logic engine to guide end users through the document creation process, asking questions and making decisions based on the user's answers. This logic engine allows HotDocs to generate complex documents that incorporate conditional clauses, calculations, and other advanced features.
HotDocs is widely used in the legal, finance, and insurance industries, as well as in government agencies and other organizations that generate large volumes of documents.
Criteria for evaluating HotDocs alternatives
While there are many HotDocs alternatives, we measured the ones on this list against certain criteria. The list isn't in a specific order, but the options we've compiled excel in at least one area.
Ease of use – One of the most important factors with any tool you choose is its ease of use. Not only for you but others in your organization that will use it. How long does it take to learn, how much effort do you need to put in, are there training resources, etc?
Pricing – Cost is also another important factor. We look at the direct costs of how much you'll pay every month or year but also the indirect costs. This is directly tied to the ease of use and the method of implementation. There's a wide range of pricing when it comes to document automation software with some coming in at less than one hundred dollars a month and others costing thousands of dollars a month.
Functionality – Functionality is always important. There's a core set of features that almost every document automation tool has such as forms to collect data and the ability to create dynamic templates. Beyond that, there's functionality that's specific to industries or unique to the platform.
Integrations – Like most companies, you have many tools that make up your workflow. The document and contract automation tools in this collection were vetted for the key integrations that would go hand in hand with a document automation solution.
Customer support – Last but not least is customer support. What kind of support options are being offered, how fast is the average response time, and what is the overall quality of the support delivered?
Best HotDocs Alternatives
DoxFlowy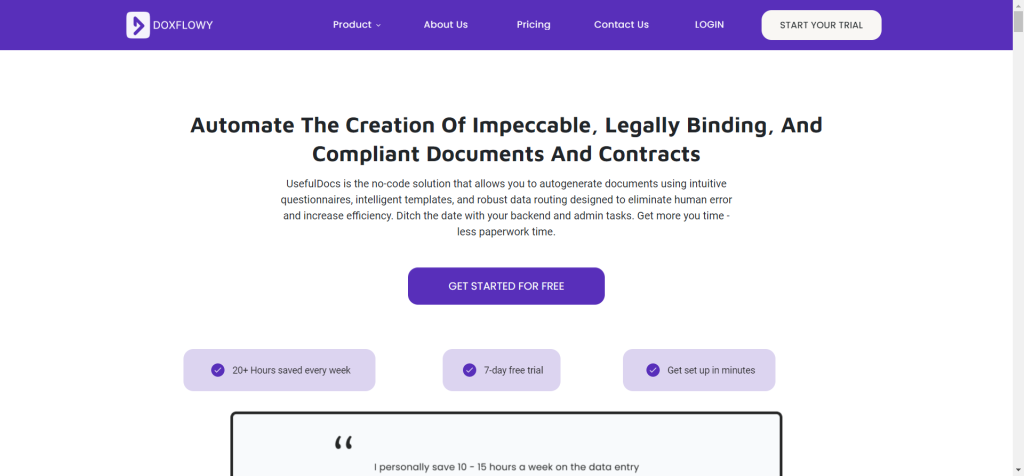 DoxFlowy is a contract and document automation solution that has been created to make it possible for small and medium businesses to get the most out of their document workflows through smart automation. It combines contract lifecycle management and document automation to allow you to work with a wide range of documents from invoices to employment agreements.
The platform comes with a built-in document editor that's as easy to use as the word processors you'll find on your computer. It allows you to create documents from scratch, edit existing templates, or upload your own documents for further processing.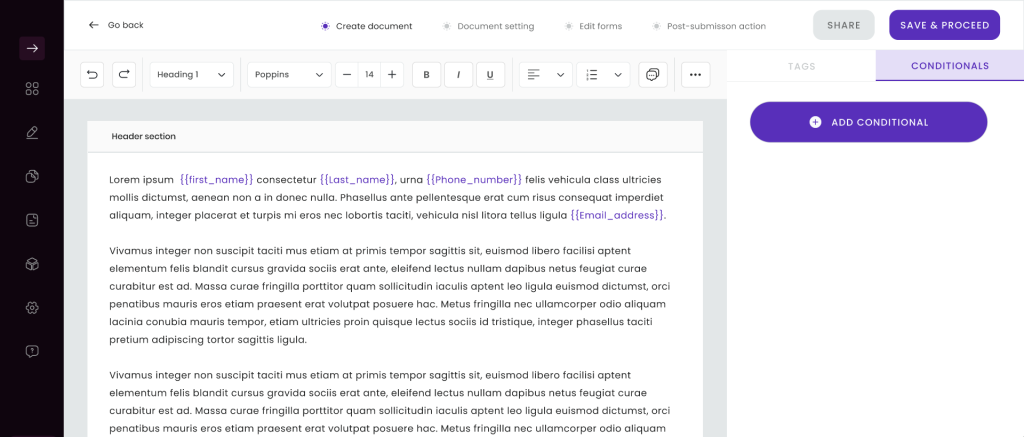 You get to take advantage of dynamic templates and a robust conditional logic engine that adapts to the inputs of users to produce customized documents. Once a questionnaire is automatically generated from a document template, you can share it via a link, embed it on your website, or send it to specific people via email. The intuitive questionnaire is then filled out and the dynamic template does the rest of the work for you. At the end of the day, you get a well-formatted and error-free document that can be generated in a variety of formats while spending a fraction of the time it would usually take.
Moving beyond the document creation processes, you have a lot of control over the document settings as well as the form settings. You can adjust things to match your brand, restrict who can access it, and even the output format of individual files.
After a document has been created, there are multiple options for post-processing and delivery. You can send notifications to relevant parties, send it for signing with the built-in electronic signature tool, set up webhooks, and more.
If you don't have documents ready or need a bit of help, you can access the library of pre-built templates DoxFlowy provides. A wide range of document and agreement types like power of attorney, NDAs, and even bills of sale are available.
Of course, there are reports that show you the status of the document and let you know the best next steps to take. Additionally, you can take advantage of analytics that tells you the number of respondents to your data collection questionnaires, how they responded, and much more.
Pricing
The platform has three core pricing plans which are divided based on the features you have access to and the usage limits. You can also choose between monthly and yearly pricing.
Core – $99/m
Team – $199/m
Business – $499/m
Docupilot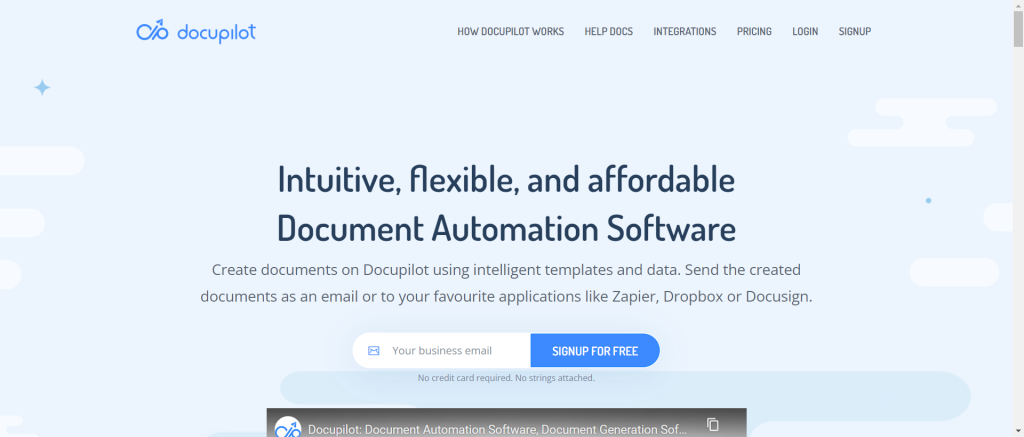 Docupilot is a document automation software that allows users to create custom documents based on form inputs. With Docupilot, users can create templates for documents and fill in the variables with data, generating customized documents in minutes.
Docupilot offers a range of features such as a drag-and-drop template builder, a document editor, and a library of pre-built templates. Users can also import data from a variety of sources, including spreadsheets, databases, and web forms, to streamline the document creation process.
One of the key benefits of Docupilot is its ability to generate documents in multiple formats, including PDF, Word, HTML, and more. This flexibility makes it easy to create documents that can be shared and used across a range of devices and platforms.
Docupilot also offers a range of integrations with popular software tools, including Zapier, Salesforce, and Dropbox, allowing users to automate their document creation and delivery workflows.
Overall, Docupilot is a simple and useful document automation tool that can help organizations of all sizes streamline their document creation processes and improve the quality and consistency of their documents. It doesn't have many advanced features so keep that in mind when considering it.
Pricing
Docupilot has quite a few pricing plans which are segmented strictly based on the number of documents you need to create every month. It starts at $29/m and goes up to $699/m.
Woodpecker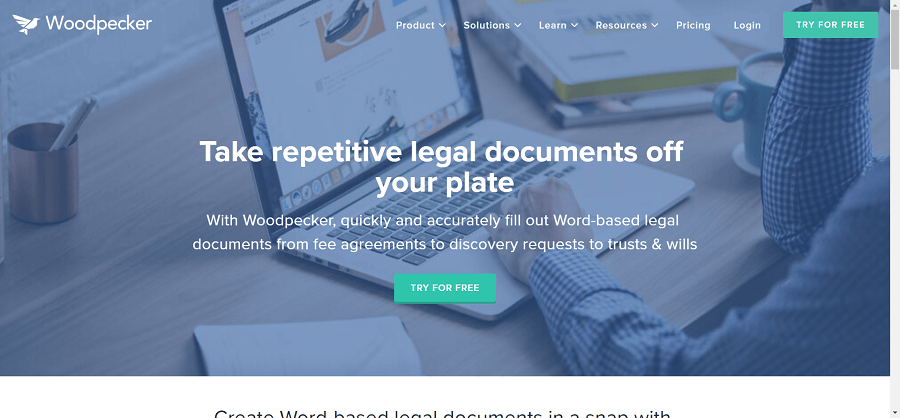 Woodpecker is a document assembly platform designed for small and medium businesses. It's made to be used with Microsoft Word instead of a cloud-based document editor which is an important consideration.
Like many other document automation and assembly tools, it allows you to create templates with conditional logic. This logic adapts to the information filled in forms to create customized legal documents.
The questionnaires are simple and straightforward and can be customized a bit so they're not 100% generic but it doesn't have deep customization options you'd get from a tool like DoxFlowy or Gavel.
One of its key features is its ability to reuse client data so you don't have to send out a questionnaire every time you want to create a new legal document. That, combined with its payment integrations make Woodpecker a strong document automation tool for the right kind of customer.
Pricing
Woodpecker has three pricing plans and the dividing factor is the number of templates that can be stored online and the number of fields per template.
$59/m – 10 templates
$139/m – 50 templates
$399/m – 200 templates
Crove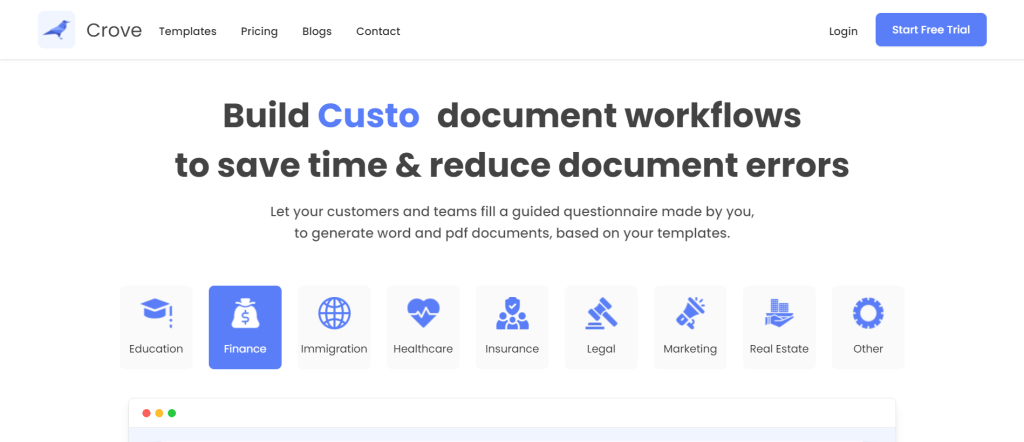 Crove is a relatively new cloud-based document automation and generation platform that has built with small businesses in mind. Like the other document automation tools in this collection, it allows you to create templates and forms which are used together to create custom documents.
It comes with an intuitive document editor, the ability to add multiple variables to each document, and support for conditional logic so each document you create will be unique.
One thing worth noting is that it has many integrations but those are handled through Zapier and it's not a direct integration. That means you may have to take out another subscription if you're planning on doing a lot of data sharing between applications in your workflow.
Crove also provides electronic signatures that come complete with an audit trail so you can be sure that the signatures will be legally binding.
Pricing
Crove has two public pricing plans and an enterprise plan. The public plans are divided based on the integrations you can use, the speed of support, and the volume of templates you can create and publish.
Gavel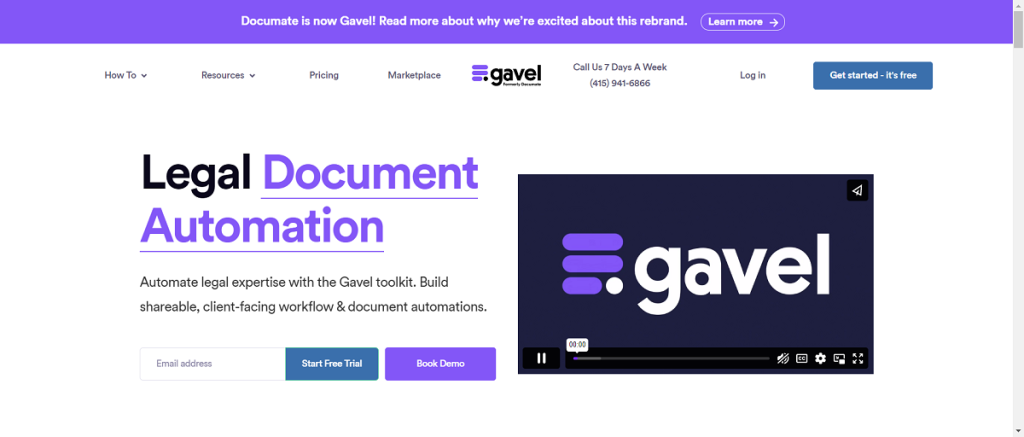 Gavel is a web-based software tool designed for automating contracts and legal documents. It's primarily used by legal teams, in-house counsel, and businesses to streamline their contract management processes, reduce risk, and increase efficiency.
You can set up custom workflows, manage approvals, and track changes in real time. One of the key features of Gavel is its ability to automate contract creation through the use of dynamic templates.
It also provides conditional logic for forms so that you're able to create one dynamic template that produces multiple unique documents. With the data management feature, you can reuse submitted data and create new templates or even edit the data that was submitted in case of any errors.
All things considered, it's a solid platform for automating document workflows and cutting down the time it takes to draft complex legal documents.
Pricing
Gavel has three pricing plans which start at $99/m and goes up to $399/m.
Windward Studios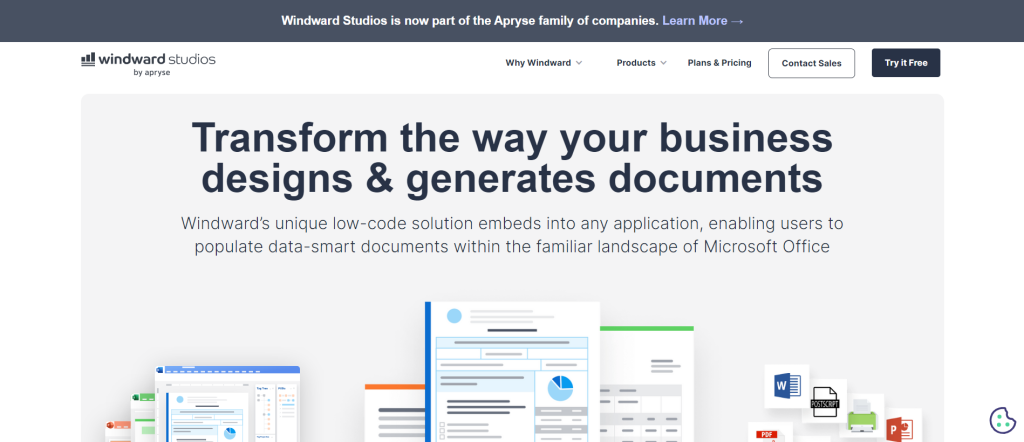 Windward Studios is a software development company that specializes in document automation and reporting solutions. The company was founded in 1994 and has since grown to become a popular provider of document automation software for a wide range of industries.
Windward Studios provides a powerful document automation tool that allows users to create custom templates for a range of document types, including contracts, reports, invoices, and more. It features a simple interface that makes it easy to create and customize templates, and supports a wide range of data sources, including databases, XML, JSON, and more.
It works like many document automation solutions. The major difference is that it's targeted at organizations that want to embed a document automation solution in their own applications as opposed to a standalone cloud-based system.
Pricing
Winward Studios has two plans for the main product – Winward Core. It starts at $6,790/year for the core plan which is limited by the number of document pages you can generate. It's important to note that it's priced based on pages and not based on documents.
The second plan starts at $9,210/year and tracks the number of product engines you have access to but you can create unlimited documents. This may be a better choice for high-volume users.
Legito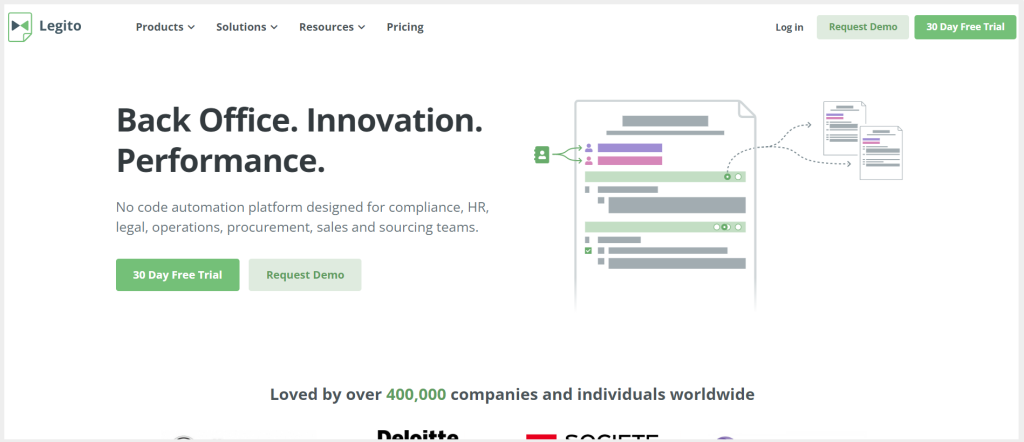 Legito is a web-based software tool designed for automating legal document drafting and management. You can select from a range of pre-built templates or create your own custom templates, which can be used to automate the document creation process. Legito also includes a range of collaboration tools, such as real-time document editing and commenting, which can be used to facilitate collaboration between legal teams and stakeholders.
One of the key features of Legito is its ability to automate document generation and assembly. The software automatically populates legal documents with relevant information, reducing the need for manual data entry and improving accuracy. Legito also includes a range of compliance features, such as automated clause checking and version control, which can be used to ensure legal documents comply with relevant laws and regulations.
Legito comes with a timeline feature that shows all the activity within a document such as the document owner, when the file was uploaded, expiration date, payments, etc., and who was responsible for each action.
Pricing
Legito has annual and quarterly pricing – there is no monthly option and it's divided into three pricing plans. Each plan is billed based on a minimum number of users then you can include additional users.
Basic – $120/m/user for a minimum of $320 for three months.
Small business – $96/m/user with a minimum of 10 users $2880 for three months.
Enterprise – custom pricing.
Conclusion
HotDocs is a popular tool but for many, it hasn't moved fast enough to keep up with the changing times. Because of that, there are many HotDocs alternatives that are worth taking note of.
This guide has explored 7 of the best HotDocs alternatives available right now. Each one has its own advantages and use cases so shortlist the ones that make the most sense for you and explore them further.
Make sure to take a closer look at DoxFlowy to see exactly how it can help you run a more efficient document creation and management operation.